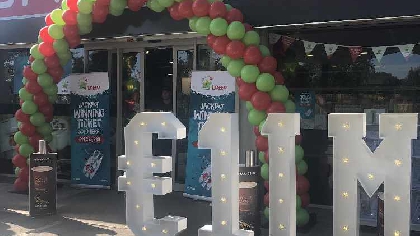 Owner Ken O'Connor previously sold a winning ticket worth 5.7 million euro at another of his spar stores in Dublin.
The winning numbers are: 10, 13, 23, 24, 25, 44 and the bonus number is 12.
The jackpot is the 15th highest prize since the Lotto was launched in 1988.
Since then, there have been 55 Lotto jackpot winners in Wicklow, amounting to 87.2 million euro.
The shop will now get a bonus of 15 thousand euro.

The National Lottery is appealing to people in Wicklow to check their ticket and to get in touch if they are the winner.
The roll call for Lotto jackpot wins in excess of €10 million are:

| | | | |
| --- | --- | --- | --- |
| Date | Lotto Winners | County | Jackpot |
| 28-Jun-08 | Dan Morrissey Syndicate from Carlow claim Ireland's biggest ever win. | Carlow | 18,963,441 |
| 14-Apr-10 | Waterford couple purchase their winning ticket at Easons store in Dungarvan Co. Waterford. | Waterford | 16,717,717 |
| 23-Oct-10 | Dublin man wins massive jackpot with ticket bought at Donnybrook Fair in Dublin 4. | Dublin | 16,390,239 |
| 28-Jul-07 | The Cunningham family from Cork City become Lotto multi-millionaires after buying their ticket at their local Centra store in Farranree, Co. Cork | Cork | 16,185,749 |
| 26-Apr-08 | Family from Co. Dublin share the mega jackpot with a lucky ticket from Rowlagh Newsagent in Clondalkin, Dublin 22. | Dublin | 15,658,143 |
| 12-Mar-08 | Kildare couple buy their life-changing ticket in Tesco, Newbridge Co. Kildare | Kildare | 14,543,033 |
| 18-Apr-09 | Dublin couple purchase their winning ticket at the Spar store in Glenageary, Co. Dublin | Dublin | 14,530,193 |
| 26-Mar-11 | Two separate players in Cavan and Cork each share the jackpot, scooping €6.9 million each. | Cavan/Cork | 14,037,236 |
| 23-Jan-16 | Winning ticket purchased at Carey's store in Belmullet, Co Mayo | Mayo | 13,793,435 |
| 22-Dec-07 | Winning ticket sold at News & Choose store in in Loughrea, Co. Galway. | Galway | 13,295,379 |
| 27-May-09 | Dalkey Post Office, Co. Dublin sells the lucky winning ticket. | Dublin | 13,150,324 |
| 01-Mar-17 | Dublin syndicate celebrate their Lotto fortune with ticket purchased in Supervalu, Knocklyon, Dublin 16 | Dublin | 12,849,224 |
| 06-May-17 | Two lucky ticketholders from Co. Westmeath and Donegal shared the €12.3 million jackpot on offer. | Westmeath/Donegal | 12,344,808 |
| 04-Jun-14 | Couple claim massive Lotto jackpot with a ticket they purchased at the American House store in Bundoran, Co. Donegal | Donegal | 12,155,282 |
| 31-Mar-12 | Two separate players from Kildare and Meath split a jackpot worth €11.5 million. | Kildare/Meath | 11,526,000 |
| 03-Dec-16 | A Dublin GAA official collects the jackpot prize with his wife after they bought their winning ticket at the Top Service Station in Dublin 1. | Dublin | 11,345,002 |
| 21-Aug-19 | Wicklow player wins €11,225,280 Lotto Jackpot. | Wicklow | 11,225,280 |
| 20-Aug-16 | Leitrim syndicate scoop incredible jackpot prize with a ticket bought at the Spar store in Kinlough, Co Leitrim | Leitrim | 11,179,627 |
| 24-Sep-11 | The McIntyre family from Co. Mayo become one of Ireland's biggest Lotto winners with a ticket they bought at their Eurospar store in Belmullet, Co. Mayo. | Mayo | 11,033,593 |
| 29-May-13 | Kevin Geoghegan and Carol Loran scoop their massive prize after purchasing their ticket at the Tesco store in Mullingar, Co. Westmeath | Westmeath | 10,651,567 |
| 04-Apr-15 | A private Meath family syndicate claim the Lotto jackpot prize with their lucky ticket from Souhan's Filling Station in Trim, Co. Meath. | Meath | 10,650,121 |
| 30-Jan-13 | Scanlons Newsagents in Thurles, Co. Tipperary sell the winning ticket to a lucky Tipperary family syndicate. | Tipperary | 10,613,747 |
| 23-Feb-19 | Dublin syndicate claim their prize with ticket bought at the Spar store on Upper O'Connell Street, Dublin 1 | Dublin | 10,288,699 |
| 05-Feb-15 | Two friends from Co. Kildare share the incredible jackpot after buying their ticket at the Centra store in Newbridge, Co. Kildare | Kildare | 10,230,559 |
| 12-Sep-07 | Statoil Service Station in Tuam Co. Galway. | Galway | 10,067,238 |