If you would like to advertise on the Wicklow Diary contact
Anne Kennedy on 01 27 24 700 or email anne.kennedy@eastcoast.fm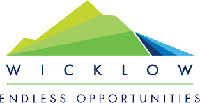 The Wicklow Diary kindly sponsored by Wicklow County Council.
For Information on your county see wicklow.ie
Breast Health is your Wealth.

Wicklow County Library Service & Breast Cancer Ireland present a series of Healthy Ireland at Your Library workshops on "Breast Health Awareness" .

•The aim of the Breast Health Education and Awareness presentation is to encourage women to become more breast aware. Early diagnosis is the key to more positive outcomes in breast cancer and the survival rate for breast cancer in Ireland is now 85% The events will take place in the following libraries:

1. Arklow Library on Tues 25th of Feb at 7pm

2. Greystones Library on Wed 4th March

3. Carnew Library on Tues 25th of March

Please contact your library for further details.

Mermaid Arts Centre
Main St
Bray

Box office: 272 4030

Lakers Flea Market

The Lakers Flea Market is on at The Old School House on Elington Rd on Sunday the 1st of March from 12 to 5pm .- With over 15 stalls filled by local craft makers, vintage clothes, antiques, food stalls, second hand curios and more!