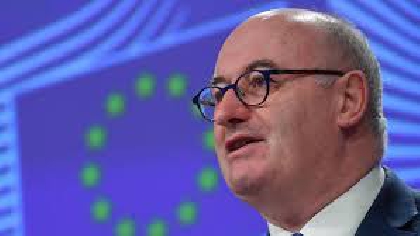 Mairead Mc Guinness and Andrew Mc Dowell have been chosen, following a cabinet meeting today.
After an incorporeal cabinet meeting today, Taoiseach Michael Martin wrote to the President of the European Commission, Ursula Von Der Leyen to nominate Mairead Mc Guinness, and Andrew Mc Dowell to replace Phil Hogan.

Mairead Mc Guinness is a Fine Gael MEP and Vice President of the European Parliament while until recently Andrew Mc Dowell was Vice President of the European Investment Bank.
He also was chief economic adviser to the then Taoiseach Enda Kenny.

The nominations fulfil the Commission President's request for a woman and a man to be put forward.

In a statement the government says it believes both are candidates of the highest calibre.

President von der Leyen will now consult with the European Parliament before the appointment of a new Commissioner is made by the Council.

On the issue of the portfolio the successful candidate might secure the government believes that both have demonstrated they have the experience, skills and capacity to serve and to make a contribution in the most demanding roles.