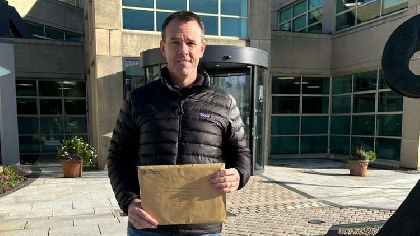 Wicklow TD John Brady today handed in a petition with 1,853 signatories along with his own personal submission to Wicklow County Council opposing plans to close the Herbert Road Junction onto the N11.
Suggestions have also been made to remove the roundabout at Hills Garage, instead putting in place a traffic lights system in order to facilitate the Bus Priority Corridor on the N11, which he described as a disaster which will bring the whole of Bray to gridlock if the plans are permitted to go ahead.
Brady said:
"There is strong opposition for the traffic plans in Bray which will result in the closure of the Herbert Road Junction, and the installation of a traffic lights system at Hill Garage in place of the existing roundabout.
The strength of public opinion is evidenced by the 1,853 signatories to a Sinn Féin petition opposing the moves. And this is not to mention what I believe is quite a significant number of submissions submitted by local people opposing the moves.
The voices of local people must be listened to.
The stark reality is that the traffic plans as they currently stand are not just unworkable, they are going to result in a disaster for motorists and residents who currently use the Herbert Road Junction, and the Hills roundabout.
There are three other junctions in Bray. I do not believe that the traffic prevented from using Herbert Road would travel to the Bray North Junction. Nor will they use the Old Fassaroe Junction, which would take them onto the Main Street, which is itself overwhelmed with traffic.
Which will result in traffic being forced to use the new junction at the former Hills Roundabout. Planners have already conceded that the new junction will privilege traffic exiting the N11. The anticipated influx of additional traffic will be more than this junction can cope with. Particularly when we consider that vehicles are forced to que out onto the N11 as they await access to the junction.
This white elephant contrived at the expense of the taxpayer will result in little more than the creation of a car park on the N11 under the guise of introducing a bus lane.
Through my interaction with local people and motorists on this issue, and the response in terms of support for the petition and the number of submissions tabled, the strength of opposition is abundantly clear.
Once again, I am calling on the Green Party Minister for Transport Eamon Ryan to abandon his ideological approach to our transport infrastructure, and to listen to the appeals of the people of Bray."