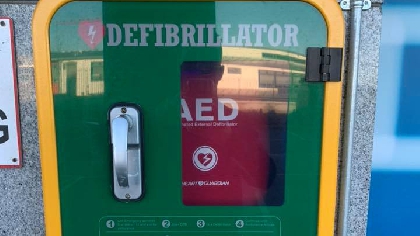 Due to the ongoing COVID-19 pandemic. The National Ambulance Service has announced that all Community First Responders (CFR) Groups have been stood down with immediate effect.
A spokesman said "The decision was not made lightly and was only made following much discussion and consideration surrounding the health, safety and welfare of all responders'

This situation will continue for the duration of the Covid 19 pandemic CFR's will return to active duty when they get confirmation from the National Ambulance Service that it is safe to do so.
In the event of a family member collapsing would you know what
to do?
Check for a response – gently shake the person's shoulders and ask loudly 'are you alright?

Check for normal breathing

Someone having a cardiac arrest won't be breathing, or won't be breathing normally. They
also won't be conscious. Look, listen and feel for no more than 10 seconds.

If the person is not breathing or not breathing normally:
- Call for help and ask someone to call 999 immediately and ask for an ambulance
- ask someone for a public access defibrillator (PAD).
If there is no one there to help you call 999 yourself and put your phone on handsfree.
Start CPR.

During the Covid 19 Pandemic it is advisable that compression only CPR is performed. No
breaths are to be given to the patient.
Click here for instructions on using a Defibrillator
Please familiarise yourself with the location of the nearest Public Access Defibrillator (PAD) in your area.

Aughrim
Aughrim National School
Aughrim Credit Union
Sports Complex, Andy Allen Park

Arklow
Opposite St. Gabriels Cemetery, Emoclew Rd.
Applegreen Service Station, Wexford Rd.
Fun Palace, Upper Main Street
Adrian Dunne Pharmacy
Ferrybank Careplus Pharmacy
HSE Building. Inbhear Mor Square
The 7 Eleven, Back Street
Kinsella's Shop, Beech Rd.
Arklow Lifeboat Station, South Quay E

Avoca/Conary
Hendleys Shop
Avoca Community Hall
Rooster Park
Avoca National School
The Woodenbridge Hotel
The Meetings
Conary Stores CONARY

Balycoog
Ballycoog Community Hall
Woodenbridge Hotel outside main entrance.
Barndarrig, Brittas Bay ,Kilbride (BBK) Defibrillator Group
Project Location "PUBLIC ACCESS" Sites
Barndarrig GAA Pitch, Kilmacurra West, Kilbride A67 NW99
Flemings Post Office, Barndarrig A67 XH56
Jack Whites, M11 Jct 19 Ballinapark, Brittas Bay A67 HE06
Hillview Caravan Park, Bellpark, Brittas Bay A67 F654
The Beach Hut/Stauntons Caravan Pk, Brittas Bay A67 XY94
O Driscolls/Cara CVN Park, Brittas Bay A67 N996
Daybreak-Bay Café, Ballinacarrig, Brittas Bay A67 HN29
Gormanstown Driving Range A67 XO31
The Beehive M11 Jtn 18 Roscath, Kilbride A67 KD27

Baltinglass
Mc Greals Chemist
Spar
Loyds Chemist

Bray
Harbour Bar
Sea Life
Bray Bowl
Bray Credit Union, Main Street
Tesco, Vevay Rd.
Super Valu Castle Street
Star Leisure
Coffee Delights, Southern Cross Road
Ballywaltrim Community Centre, Boghall Rd
Fassaroe Family Resource Centre
Order of Malta HQ, Hawthorn Rd
Hayes Butchers, Florence Rd.
Order of Malta, Strand Rd.
Cunninghams Chemist, Killarney Rd.
XL Boghall Stores, Boghall Rd.
Chrissy D's Vevay Rd.
Anchor Bar, Strand Road

Blessington and surrounding areas
Crosschapel Church - Our Lady of Mercy
West Wicklow House
Striders Running Track, Community College
Mc Greals Pharmacy
Blessington GAA Club
Cullens Lake View Lounge, Ballyknockan
Manor Kilbride Community Hall
Valleymount Parish Hall
Lacken Community Centre
Eadestown Church of Immaculate Conception
Kilteel St Laurance O'Toole Church

Carnew
Mc Girr's Chemist
IFP Factory - Aughrim Road
Candy's Petrol Station
Askamore Church and Community Contre
Kilrush Church

Donard
Donard Post Office
Knockan arragan Shop
Davidstown National School

Dunlavin
DUNLAVIN GAA Sparrow Road
MORRINS CENTRA Stephen Street
DUBLIN PRODUCTS Tornant Lower
HEALTH CENTRE Kilcullen Street
ST KEVINS COLLEGE Pound Road
SCOIL NIOCLAIS Pound Road

Enniskerry
Magee's Chemist
Curtlestown School
Reconciliation Centre Glencree Village

Greystones Area
Donnybrook Fair
Farrellys Delgany
Danns /The Beach House Pub
The Burnaby Pub
Super Valu Charlesland
Daybreak Eden Gate
Super Valu Main Street
The Carraig Pub
Circle K Rathdown Blacklion
Sailing Club Harbour Wall
Whale Theatre

Kilcoole
Bella's Bubbles
Lees Pub

Kilmacanogue
Post Office
Carragoona Close
Calary
Glencormac
Avoca Hand Weavers
The Grove Bar
The Red Lane
Rocky Valley Cescent
Kilmacanogue Community Hall
Djouce Golf Club
Ballybawn
Kilmacanogue National School
Laragh
McCoys Shop

NewtownMountKennedy
Henry and Rose Takeaway, Newtown Mount Kennedy

Newcastle
Castle Inn

Rathdangan
Rathdangan Community Hall

Rathdrum
The Craft Butcher, Main Street
Catholic Church on the wall - Laragh side - facing the main car park.
Avonmore FC grounds, Ballinderry Road
Greenane Catholic Church near the door
Clara Vale Catholic Church near the door
Avondale Forest Park on the public toilet wall near the upper car park

Rathnew
Centra
St Josephs Church
Doyles Pub

Roundwood
Djouce Golf club
Parish Hall, Roundwood
Prices Garage, Roundwood
Lough Dan Scout Center
Roundwood National School.
Biking.ie Ballinastoe Wood
Roundwood GAA Complex

Tinnock
Tinnock National School

Wicklow Town
Michael Collins Pharmacy
Wicklow Care Plus Pharmacy
Wicklow Rowing Club
Wicklow and District Credit Union
Ernies Bar
Click here for a list of Covid Community Support Groups in Wicklow