Helping each other out - Arklow
Helping each other out - Wicklow
Blessington Town Team - Covid Community Response Group
Greystones (surrounding) COVID 19 Self Isolation Help
Self Isolation Kilmacanogue - Join WhatsApp Support Group
Newtownmountkennedy District Forum - Offers of Support within the Group for people in the area
Covid-19 Wicklow Support Group
Bray COVID Isolation community help
Not alone (newcastle,kilcoole,delgany,greystones)
In Carnew - Station officer from Carnew Fire Service Martin Shannon will have a delivery service from three local shops and the local chemist to the elderly and anyone in quarantine.If you wish to avail of this service call Centra 053 942 6129, Candy's 053 942 3751, Kenny's 053 942 6626, McGirr's Pharmacy 053 942 6202 - This service is for Carnew and local areas only
Kilmacanogue & Enniskerry Community Support Group for Covid 19.


In Avoca - volunteers on standby to help with delivery of essentials for vulnerable, elderly or those self isolating in our community. Please phone Mary at Avoca PO 087 9387871 or Bernie at 087 1457973 & they will alert volunteers to what's needed & the address. An Eircode would be helpful. See Avoca Tidy Towns for more information
In Rathdrum - Rathdrum Tidy Towns in conjunction with St John's Ambulance are offering help to people in the area. Contact Megan on 087239434, Mary Farrell on 0872020278 or Liam Kinsella 0868383823
In Roundwood - Roundwood Response Team is up and running for our Senior Citizens and high risk persons. It involves the following: Mick O'Rourke, Roundwood Pharmacy - John, Sugar Mountain Cafe - Janette, Centra - Gabriel and Joanne, Post Office - Malik, Grant Butcher's - Keith and Keeleys Hardware - Moe
Contact 087 - 1329420 for assistance.
In Kilcoole - A Covid Response Team has been set up between Kilcoole GAA Club and Ian Coughlan CENTRA.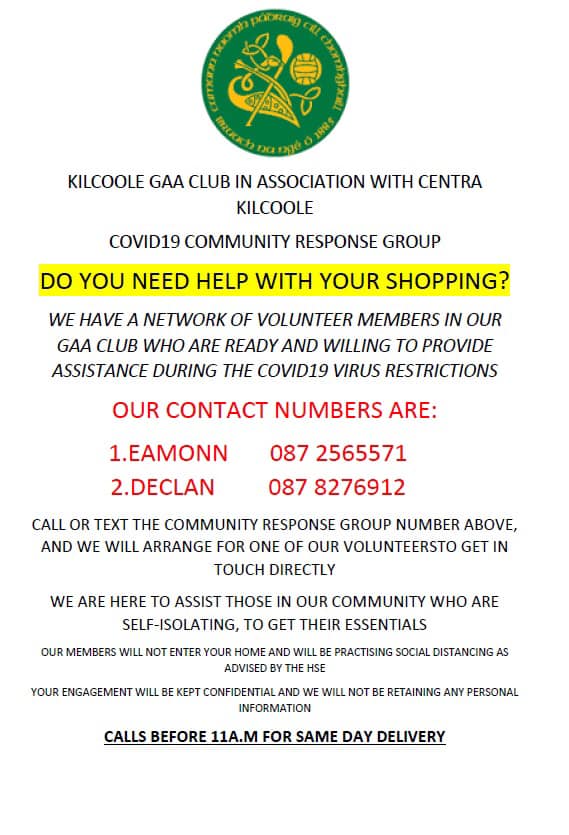 Wicklow County Council Community Support Helpline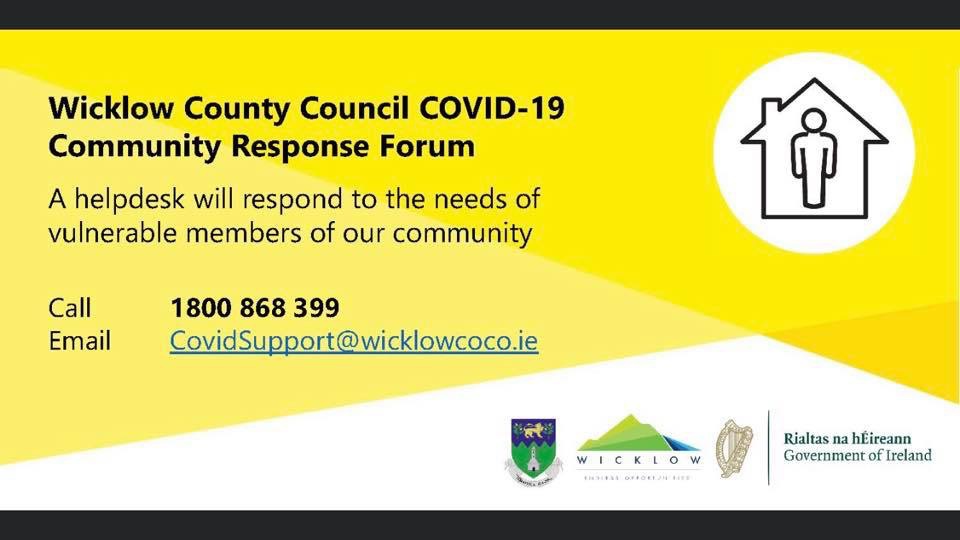 Message from Citizens Information Service
Due to Covid-19, face-to-face service in all South Leinster Citizens Information Service offices are suspended until further notice.
Phone and email service will continue to operate as normal.
Phone: Bray office 0761 07 6780
Email: bray@citinfo.ie
Phone: Wicklow office 0761 07 6840
Email: wicklow@citinfo.ie
National Helplines
Covid Community Response National Helpline: Members of the public seeking assistance can now do so via text (086 180 0256) or phone call (021 237 7809)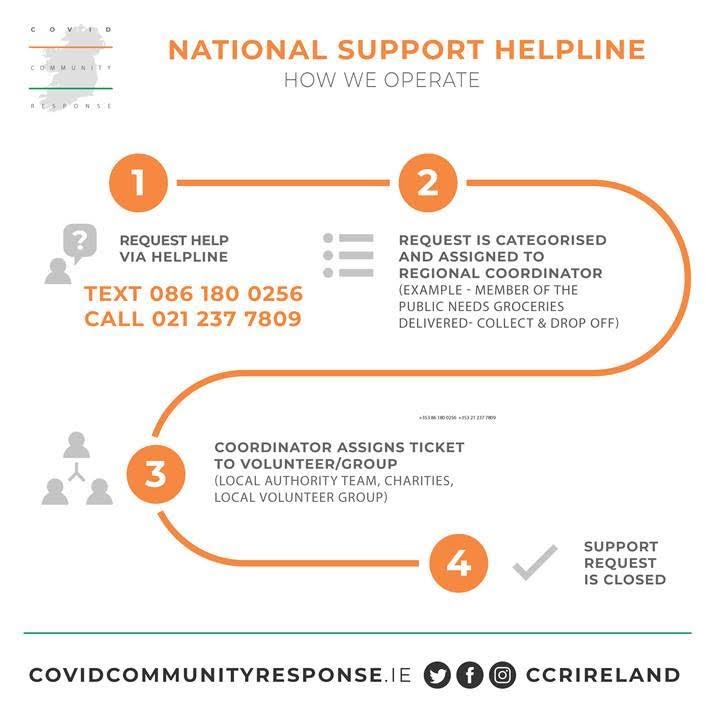 Covid-19 Pandemic Unemployment Payment
Where employers cannot avail of the Temporary Wage Subsidy Scheme and their employees where they have been temporarily laid off can apply for the Covid-19 Pandemic Unemployment Payment from the Department of Employment Affairs and Social Protection. This payment is for €350 per week and is available to all individuals who are temporarily fully unemployed, including the self-employed.
The quickest and easiest way to apply for the Covid-19 unemployment payment is through my Department's online portal www.MyWelfare.ie. All that is required is for the employee to have an email address, a bank account and a PPSN. Simply go onto the Covid-19 Services section of the website and apply for the payment. They will have to set up an account but it is a simple and straight forward process.
Details of the government's emergency payments plan here
Senior Line can be contacted on 1800-80-45-91.
ALONE is also offering coronavirus advice on 0818-222-024.
The Health Service Executive can be contacted on 1850-24-1850 or visit www.hse.ie
Citizens Information Phone Service: 0761 07 4000 / www.citizensinformation.ie
Online counselling and supports
Turn2Me
Free online counselling and online support groups for people over 18
Visit www.turn2me.org
MyMind
Jigsaw
Mental health information and a Q&A service for young people, their parents and guardians, and those who work with young people. Jigsaw also offer an online group chat service.
Visit www.jigsawonline.ie
Shine
Support for people with mental ill health. Shine also are currently providing remote support and an outreach service to people who use Shine services by phone and email.
Visit www.shine.ie or email phil@shine.ie
Bodywhys Online Support
Support for people who are affected by eating disorders including for friends and families. Online support groups are continuing as normal.
Visit www.bodywhys.ie or email alex@bodywhys.ie
Irish Red Cross
Irish Red Cross Greystones, Delgany Branch and our Baltinglass Branch we are now in a position to offer community support services to North Wicklow and to the west Wicklow areas, These duties may include Collecting shopping, Medications bringing vulnerable persons to medical appointments.
The reason to offer service now is with the increase of members availability as 90% of our members are in full time employment and 100% volunteers, it was not far on asking everyone to be available after work and at week-ends also. With the current situation every member who is not an essential worker has made them selves Available to help out their local community's.
The Irish Red Cross are looking to recruit associate members for the #Covid19 response, this would be for delivering food and medicine to those self-isolating (no contact), or vulnerable persons, admin, driving etc. Drivers must be over 25 with a full drivers licence, in good health, all volunteers must be over 18. There is no membership fee, Garda vetting will be fast track and uniform/ID/PPE provided
Please contact through Communitysupport.greystonesdelgany@irishredcross.com
Anam Cara
On behalf of Anam Cara and bereaved parents throughout Ireland, we would be very grateful if you could help us raise awareness of the new online resource Anam Cara have developed and launching this week. This resource can be accessed via the Anam Cara website homepage and will offer some support and solace to recently bereaved parents. Anam Cara understand the additional challenges they now face throughout the Covid 19 virus emergency and the recently announced restrictions on funerals
Anam Cara has swiftly responded to these new restrictions by developing and producing (click on link) 8 online Bereavement Support video vignettes to help bereaved mother and fathers at this very difficult time. These clips will complement the Anam Cara videos and information Pack which were compiled by bereaved parents for bereaved parents. The new support resources can be accessed here (click on link) anamcara.ie .
Click here for a list of Public Access Defibrillators throughout county Wicklow