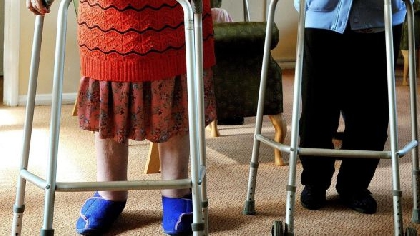 The Dáil's COVID-19 committee has been hearing about the situation in nursing homes, with Tadhg Daly from Nursing Homes Ireland strongly critical of the government's initial response
Nursing home residents were left isolated by the state in the early days of the COVID crisis according to Nursing Homes Ireland.

CEO Tadhg Daly has told an Oireachtas Committee he was left exasperated by the exclusive focus on acute hospitals.

But Fine Gael TD Fergus O'Dowd hit back at that assessment - saying wealthy owners of private nursing homes could have done more to buy PPE:

More than 500 pages of correspondence between the Department of Health and Nursing Homes Ireland was delivered to TDs at 9.30 this morning ahead of a committee meeting that started at 11.

Among the documents it emerged one nursing home had to use painters overalls and goggles in lieu of personal protective equipment, with Nursing Homes Ireland saying more should have been directed to nursing homes instead of entirely to acute hospitals.

Almost half of all deaths from the virus have occurred in care settings and there have been 264 clusters in nursing homes.