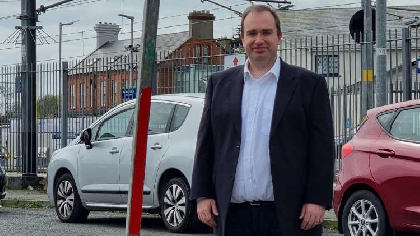 Cllr Stephen Stokes has welcomed plans for a major investment in the La Touche Road car park area.
A grant has been allocated for the construction of an Amphitheatre Performance Space at the La Touche car park in Greystones.
The announcement was made at the October 2023 meeting of Greystones Municipal District.
The funding is part of the Outdoor Public Space Scheme 2021, with a majority of the the funding from Department of Tourism, Culture, Arts, Gaeltacht, Sport and Media.
The grant is for €250,000.
The project will require a Part 8 consultation process.
Cllr Stokes stated: "This is great news. Greystones needs this type of civic space, as we have tremendous local talent, which will complement the Whale Theatre. I would like to commend Michael Nicholson and Wicklow County Council for their efforts."

The funding for the project is conditional on money being spent within the next year.
Cllr Stephen Stokes added: "I have been pressing for a number of improvements in this area. At the Greystones District meeting I again mentioned that the security gate can be pushed open by anyone. As such I would like to see a long term solution. We will need to factor in access for Irish Rail, who require large vehicle access."

Cllr Stephen Stokes also believes that this is an excellent opportunity to make the area more user friendly.
Cllr Stokes noted: "Of course we still need to consult fully with local people to ensure that their views are listened to, but it seems like a positive opportunity. It has great potential to further enhance our area as a creative hub."