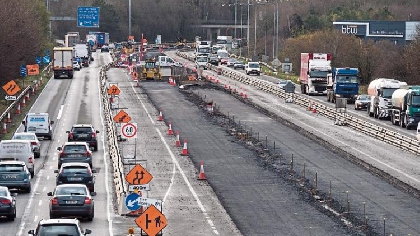 After 18 months of roadworks, all three lanes of the M7 in Kildare are now open to traffic
The upgrade covers 13.6km of road between Junction 8 Johnstown and Junction 11 where the M7 and M9 merge.

It's part of a three element project which also includes the M7 Osberstown Interchange and the R407 Sallins Bypass.

Limited works will be continuing in the hard shoulder and roadside verge areas.
More than 97,000 trees and 10,000 shrubs will be planted along the M7 widening works.

As part of the landscaping phase of the project 14,000 metres of new hedgerow will be planted along with 167 thousand square metres of woodland.

Kildare County Council says native Irish species including oak, hawthorn, alder, birch, hazel and willow will all be in the mix.

The landscaping is being done to replace the 10,000 metres of hedgerow that was removed to facilitate the road widening project.

The council says ash trees will not be used due to restrictions aimed at limiting 'ash die back'disease.