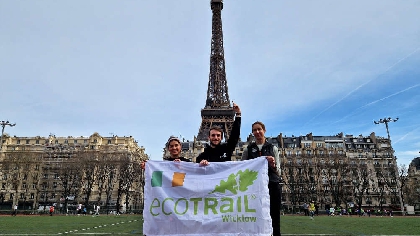 The popular international trail running festival is back in Wicklow at the end of September with race day scheduled for Saturday, 30th September 2023. 
Attracting more than 1500 participants, EcoTrail Wicklow is Ireland's premier trail running event with participants coming from all over the world.
The 2022 event attracted participants of 42 different nationalities with runners coming from all over Europe, the US, South Africa and Singapore. EcoTrail Wicklow has gained the support of Failte Ireland with the objective to grow international participation and exposure.
EcoTrail Wicklow is based out of Bray with start and finish of the various races on Bray Seafront.
The event offers five different distance options. The 8km and 19km races are ideal for beginners looking for a first trail running experience.
The more experienced and ultra runners will enjoy the 30km, 45km or the gruelling 80km races.
The various routes take on some of Wicklow most scenic trails and locations including Bray Head, Killruddery, Little Sugar Loaf, the Big Sugar Loaf, Powerscourt Waterfall, The Wicklow Way, Lough Tay and the Vartry Reservoir.
The sport of Trail Running has enjoy increasing popularity around the world.
The connection with nature and the mostly non-competitive and fun atmosphere has made the sport extremely attractive to road runners as well as hikers looking for a new challenge.
For further info on EcoTrail Wicklow click here