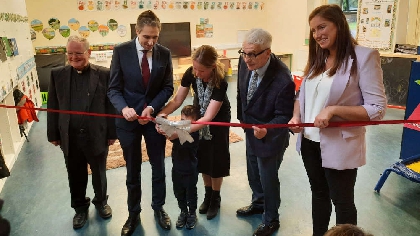 A new ASD unit has opened at St Mary's National School in Barndarrig.
The early intervention classroom will provide opportunities for young preschool children to access education in their community.
Wicklow Minister Simon Harris said: "I am delighted to be opening this new autism class here in St Mary's.
"This is going to be a major new educational resource for autistic children and really a model we need to see so much more of.
"We know that we need more of these and we need to make sure all the schools around the county are as inclusive as possible.
"This new autism class will cater to the needs of children with autism and will allow them to participate more in the daily activities of the school.
"This is something, and many will know this already, that is very close to my heart.
"Proving the appropriate resources for school has and always will be one of my priorities as a public representative of Wicklow.
"I want parents to know that when their child goes to school they are going to progress and not regress.
"This is going to make a huge difference to the families and children that are going to benefit from this class and this is definitely going to be a huge boost for St Mary's NS."
Minister Harris concluded: "A huge congratulations to the school and the community. It was great to meet the newest pupils and their parents."