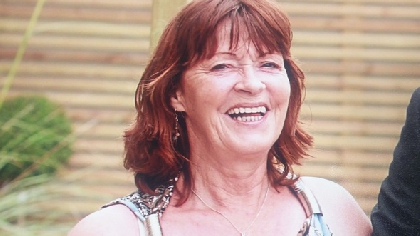 Patricia O'Connor died in 2017
Patricia O'Connors' brothers and sisters say it was tough to sit in court with the people who killed her for what they described as "selfish reasons".
Patricia O'Connor was beaten to death by her daughter Louise's partner Kieran Greene in the home they all lived in at Mountainview Park, Rathfarnham in Dublin on May 29th 2017.

The 61 year old was then dumped in a shallow grave, but later dug up and dismembered.
Her remains were found scattered across the Wicklow and Dublin mountains over a 4-day period two weeks later.
In a handwritten statement prepared by Patricia O'Connors' brothers and sisters, they described her as "the most kind and caring grandmother, sister and mother.
They said she was a "hardworking woman who loved to share her kindness with all. Privately, they said they were disgusted with the way she had been portrayed during the 7-week trial.

The man convicted of her murder, 35yo Kieran Greene, claimed he was acting in self-defence when she came at him with a hurley in the home they shared at Mountainview Park, Rathfarnham, Dublin in May 2017.

He later changed his story, and blamed her husband Gus, but the jury didn't believe him, and he will be handed the mandatory life sentence in April.

Gus O'Connor, his daughter Louise, her daughter Stephanie, and Stephanie's father Keith Johnston are all due to be sentenced for impeding Mr. Greene's apprehension or prosecution by helping with the attempted cover-up in various ways.