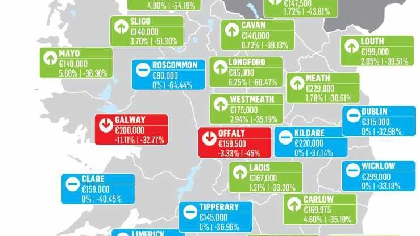 CSO figures show the largest increase in prices was in the border counties.
The rate at which prices are rising is slowing.

They were up 2.8 per cent in the year to May compared to 3 per cent in the twelve months to April.

Residential property prices rose by 0.6% in Dublin compared to 5.1 per cent in the rest of the country.

However the are large variations in different areas, the highest house price growth in Dublin was in South Dublin at 4.0%, while Dun Laoghaire-Rathdown, saw a decline of 2.6%.

The border region saw the largest rise in property prices outside the capital at 15.2%, while the smallest rise was recorded in the Mid-East region of which Wicklow is part of at 0.5%.