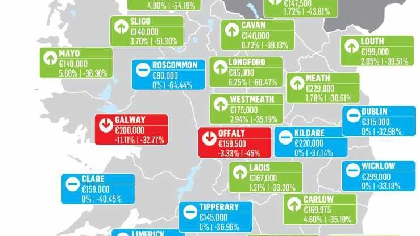 Houses prices have risen right across Wicklow in the last year – although it's still a county of two halves.
According to new figures released by the Irish Independent today, the average price of a home in North Wicklow now stands at five-hundred and fifty thousand euro, a rise of 5%.
Meanwhile, house prices in south Wicklow are up 7% to an average of two hundred and fifteen thousand euro.
All types of homes have seen a price hike in the last year, with bungalows and 4-bed semi-detached houses among the biggest increases.