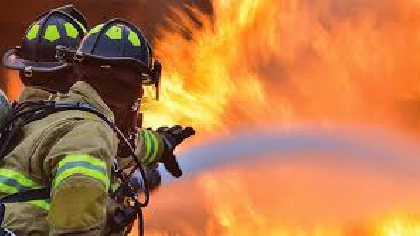 Wicklow Sinn Féin TD John Brady has attended a commemorative event to mark the 16th Anniversary and pay tribute on the occasion of the deaths of firefighters Brian Murray and Mark O'Shaughnessy, who were killed in the line of duty in Bray on September 26th, 2007, while protecting their community.
Speaking after the event Brady said:
"For sixteen years we have gathered and remembered the sacrifice of these two brave firefighters. Two selfless and heroic individuals, whose deaths were caused by serious failures in the Retained Fire Service.
Now we find ourselves 16 years later, at the tail end of industrial strike action Retained Fire Fighters. Strike action in protest at the continued failure of the authorities to address issues that have plagued the retained fire service.
Firefighters continue to await the full resolution of the issues around the strike. Recommendations have yet to be implemented, and the core issues which continue to underscore the recruitment and retention crisis still have to be addressed.
I have major concerns regarding the situation in respect of the lack of cover for Greystones Fire Station. My understanding of the situation is that the Greystones Fire Station has been off call for the last two weeks, which means that they have not been in a position to deploy to emergency callouts. And that currently the area is being covered by the Bray Fire Station.
Which is itself understaffed. Bray is supposed to be a two-pump station, but is now operating as a single pump house due to a serious shortage of firefighters in Bray.
There is a population in North Wicklow in excess of 65,000 being covered by one fire tender. Which is based in Bray, receiving back up from Wicklow Town.
This lack of coverage is leaving both local communities and firefighters at risk. If more than one emergency occurred at the one time, the whole area from Bray right the way down to Wicklow Town is seriously at risk as a result of staff shortages. This is a serious crisis.
I am calling today with the utmost urgency for Minister Darragh O'Brien, the Wicklow Chief Fire officer, and Wicklow County Council senior management to address the issues directly affecting the service in Greystones.
I do not want to come back to this monument next year to see the names of other firefighters added, as a result of systemic failures within the Retained Service that have not been addressed."