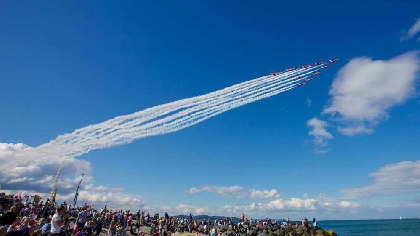 A number of road closures will take effect in North Wicklow this weekend
We want all visitors to enjoy the #BrayAirDisplay this weekend but please have respect for our residential neighbourhood & our environment!

Plan your day ➜ https://t.co/Q3icbdIdnS#SummerInBray #IAC100 #LeaveNoTrace pic.twitter.com/hAC6OK0Ss3

— Bray Air Display (@BrayAirShow) July 23, 2022
Sunday 24th July 2022
There will be road closures in place from early and the following roads will be closed:
Strand Road
Albert Avenue
Sidmonton Avenue
Convent Avenue
Meath Road
Seapoint Road
Quinsborough Road
Florence Road
Novara Avenue (from Bray Institute Of Further Education (BIFE))
Vevay Road (Southern Cross side) to Putland Road
Newcourt Road
Lower Dargle Road
There will be restrictions on other roads in the area also.
Traffic Restrictions:
Sidmonton Road
Putland Road
Boghall Road
Castle Street
Dublin Road
Bray Main Street
Proposed Diversion Route
Southbound traffic on Main Street Bray shall be diverted via Killarney Road. Southbound traffic on Vevay Road will be diverted via Killarney Road or via O'Byrne Road to Boghall Road and Killarney Road.
Please note: Traffic restrictions and road closures are subject to change without notice.
These closures will take effect from 9am