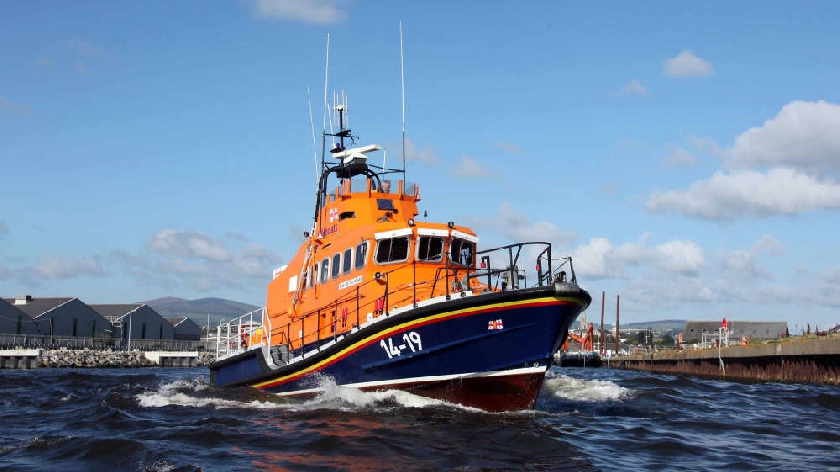 The volunteer lifeboat crew were paged by the Irish Coastguard on Bank Holiday Monday.
The volunteer lifeboat crew were paged by the Irish Coastguard at 2:20pm on Bank Holiday Monday, following a report of a person in the water.
The all-weather lifeboat under Coxswain Ned Dillon and the volunteer crew of Geoff Kearnes, James Russell, Craig O'Reilly, Austin Gaffney, Jimmy Myler and Eddie McElheron launched immediately and made its way to the scene.
Weather conditions at the time were described as good with a calm sea, light wind and good visibility.
Upon arrival at the nearby Roadstone jetty, 2 kayaks were spotted in the water, almost under the jetty, with 1 of the casualties having slipped from the kayak into the water and was not able to recover back on to the boat. The 2nd person had stayed in the kayak alongside the casualty but was unable to assist. The casualty was recovered from the water to the lifeboat and, once safely aboard, the second person was recovered, along with their kayaks. The casualty was given first aid and the casualty was cold and fatigued, but uninjured. The lifeboat returned to station and the casualties were given refreshments and warmed up, before they left.
Speaking following the call out, Mark Corcoran, Arklow RNLI Community Safety Officer, said: "Thankfully we were able to assist these kayakers safely back to shore. Given the good weather, there are a lot more people around and on the water, and we would like to re iterate our message that if you are going on or in the water: Always carry a means of calling for help, always wear a lifejacket and other appropriate protection, always check the weather and tides before going to sea, and please Respect The Water."
The RNLI has issued advice with the Irish Coast Guard to ask people to avoid using the water for exercise while restrictions are in place. This is to minimise the risk to search and rescue volunteer crews, helicopter crew, and other frontline emergency services, from being unintentionally exposed to the coronavirus.
Further Water Safety Information can be found at respectthewater.com