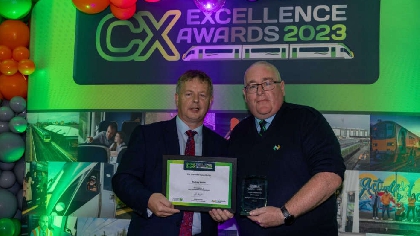 Pádraig Nolan from Wicklow Station was named regional winner and was a finalist in the In -station CX Excellence category at Iarnród Éireann's inaugural CX Awards, which took place at the Aviva Stadium in Dublin recently.
Nominees said that Padraig is always on hand to deal with customer queries. He is excellent at dealing with all customers who use Wicklow station. Late last Christmas eve there was a delay it a train at Rathdrum and Padraig took on an operational role on the track, which he is competent to perform in order to minimise the delay to people on their way home for Christmas.
These awards aim to shine a spotlight on and recognise railway workers who have not only met, but exceeded expectations, demonstrating an unwavering dedication to putting customers first and ensuring that the company's value, Customers At the Heart of Our Business is upheld.
Speaking at the awards, CEO of Iarnród Éireann, CEO Jim Meade said "These awards give recognition to members of my team, who go the extra mile to provide excellent customer service to our customers and to our colleagues. Pádraig exemplifies our company values and is a worthy winner".
Speaking at the event, Minister for Transport, Éamonn Ryan TD said: "Pádraig and the other winners here today are shining examples of what excellent customer service is. Public Transport is all about people and if you can provide excellent infrastructure and excellent customer experience, more and more people will make the switch to greener more sustainable travel"