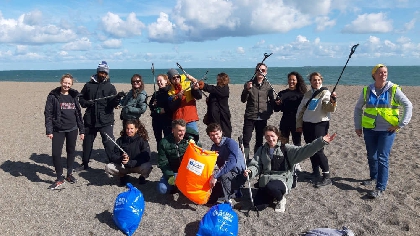 Clean Coasts received overwhelming support and commitment from Wicklow volunteers and communities for the Big Beach Clean weekend took place between 16th and 18th September. 
The Big Beach Clean is an annual call to action that runs as part of the International Coastal Cleanup, operated internationally by Ocean Conservancy and invites communities and volunteers around the country to remove litter from around the Irish coast after the end of the bathing season.
Once more, volunteers were asked to join the call to action, no matter how far from the coast.
Statistics show that the number one cause of marine litter is litter dropped in towns and cities and getting involved in the Big Beach Clean has been a way for residents of non-coastal counties to help prevent litter entering our waterways tackle the problem at its source. 
This year, a record number of over 500 clean-ups were organised by volunteers who removed over 63 tonnes of litter nationwide.
In County Wicklow, 27 groups banded together to carry out clean-up events removing an estimated 2 tonnes of litter over the weekend.
Among these groups, we were joined by Arklow Tidy Towns, Clean Coasts North Wicklow and Newcastle Community Group.
Groups in Wicklow tackled litter in several locations, including North Beach Arklow, South Beach Greystones and Newcastle Beach.