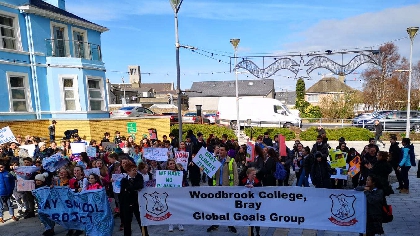 Thousands of students have marched on the Dail demanding the Government start taking climate change seriously.
Young activists handed TDs a list of six demands this week including a call for the Government to declare a 'climate emergency'.
Over one hundred Wicklow students took part in a 'Strike for Climate Change' protest outside the Wicklow County Council office in Bray today.
The schools included St.Gerards, Woodbrock College, St. Andrews N.S and Bray School Project N.S
Ireland's action on climate change has been ranked the worst in the EU in a recent report by the Climate Change Performance Index.