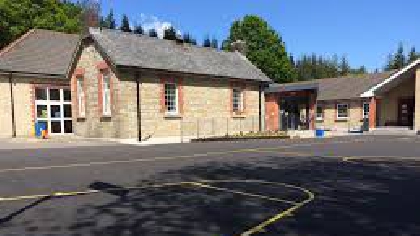 School Caoimhin Naofa in Laragh played host to the Taoiseach and a number of cabinet Ministers for the event, which aims to bring high speed internet to 1.1 million people, largely in rural Ireland.
Opposition parties have been critical of both the cost and the timing of this announcement.

They say three billion euro is too much, and the announcement during an election campaign is cynical.
Communications Minister Richard Bruton says it will ensure that "rural Ireland is not left behind."

The plan is to provide high speed broadband to 1.1 million people across the country, over 54-thousand farms and 695 schools.

EU Commissioner Margrethe Vestager says the plan will address the "significant digital divide between urban and rural areas."
The National Broadband Plan which has been in development since 2012 aims to bring high speed connectivity to half a million homes around the country.
Just €59 million of the three billion euro of state subvention for a private company, to roll out broadband to 540,000 homes in rural areas, is being spent on providing the service in Wicklow.
Most of the expenditure will be in Cork at €290 million, followed by Galway at €151 million.
As an initial step, the Government has published a list of approximately 300 community centres, schools, library hubs and local GAA halls in every county that will be connected to high speed broadband during 2020, to enable communities to quickly get free public access to high speed
broadband.

In Wicklow the locations are:
Arklow Geraldine's Ballymoney GAA Club, Shelton, Arklow
Avondale Forest Park, Avondale House, Avondale, Rathdrum
Avondale GAA Club, Corballis Upper, Rathdrum
Ballinacor GAA Club, Ballinacor Community Park, Carriglineen, Glenmalure
Ballycooge Community Hall, Ballycooge, Tinahely
Crossbridge Community Hall, Crossbridge, Tinahely
Dunlavin GAA Club, Sparrow Rd., Dunlavin
Glendalough & District Development Association, Brockagh Resource Ctre, Laragh, Glendalough
Knockree Hostel, Lackandarragh Upper, Enniskerry
Mosart Ltd., Clermont House, Newrath, Rathnew
St Kevins NS, Laragh, Glendalough, Laragh, Gelndalough
Wicklow GAA County Board, Ballinakill Ctre of Excellence, Ballinakill, Glenealy
The Government has signed the contract to deliver the #NationalBroadbandPlan with National Broadband Ireland. The #NBP will secure equal access for every person in Ireland to digital opportunities which will transform our lives ➡ https://t.co/DdhxEns9xc #Ireland2040 pic.twitter.com/4SkuiuCODs

— Dept. Communications, Climate Action & Environment (@Dept_CCAE) November 19, 2019
Here's the breakdown of investment per county under the National Broadband Plan. pic.twitter.com/iYm2ViXd33

— Leo Varadkar (@LeoVaradkar) November 19, 2019