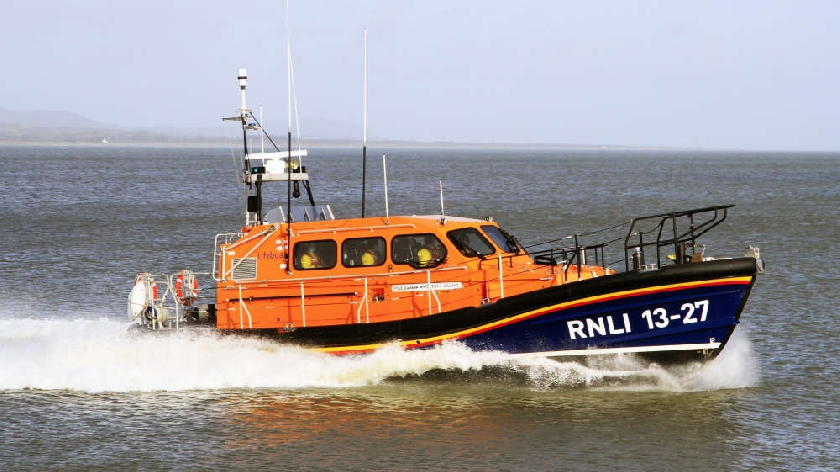 Wicklow RNLI went to the assistance of a lone sailor after his vessel got fouled in ropes.
Wicklow RNLI all-weather lifeboat RNLB Joanna and Henry Williams went to the assistance of a lone sailor on Tuesday morning (20 September) after his vessel got fouled in ropes.
The lifeboat slipped its moorings from the south quay at 08:50am following a pager alert and proceeded to sea under the command of Coxswain Ciaran Doyle and a volunteer crew. Twenty minutes later the casualty vessel was located seven miles offshore near the South India Buoy. Conditions in the area were good with calm sea and good visibility.
The lone sailor on the 12-metre motor vessel had left Wicklow harbour a couple of hours earlier and was returning to Wales, when the propellor got fouled in ropes and the boat lost all propulsion. The Coxswain carried out an assessment and as the vessel had no propulsion, the best course of action was to tow the casualty back to Wicklow harbour.
Two volunteer crew were transferred onto the motor vessel to assist with the tow line. The motor cruiser was brought alongside the East pier at 10:55am and the sailor was landed safely ashore. Speaking about the call out, volunteer Lifeboat Press Officer for Wicklow RNLI, Tommy Dover said:
"The sailor had attempted to free the obstruction, but he was unable to unravel the rope from around the propellor. He did the right thing calling for assistance and we were happy to help. When going afloat we would remind everyone to check their engine and fuel, always wear a lifejacket or buoyancy aid, and carry a means of calling for help."