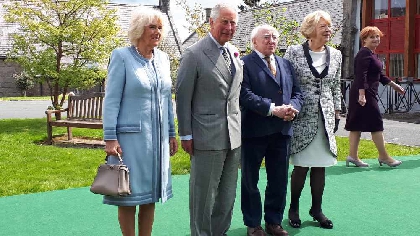 Prince Charles and his wife Camilla, the Duchess of Cornwall, have begun a two-day visit to Ireland today, visiting a number of locations in County Wicklow, including Powerscourt and Glendalough.   .
The royal couple and the Higgins', had a private meeting, before meeting groups of participants in programmes run by the Glencree centre, including a Women in Leadership group who had prepared a colourful visual display of debates between the various different member groups, such as a discussion on the connections between academia and activism.
In another closed session, the royal couple met with survivors of the Troubles in the north, including Steven Travers, who was injured in the Miami Showband massacre in July 1975 when five people were killed, including two members of the band, by the Ulster Volunteer Force (UVF), a loyalist paramilitary group
The couple have visited Ireland several times in recent years, including a four day trip in June last year, when they took in a number of locations in Cork and Kerry.
Powerscourt is delighted to welcome Their Royal Highnesses The Prince of Wales and The Duchess of Cornwall to the Estate and Gardens #RoyalVisitIreland #Powerscourt #PrinceCharles #Cornwall #PowerscourtGardens pic.twitter.com/l9J911Ydrn

— Powerscourt Estate (@thepowerscourt) May 20, 2019