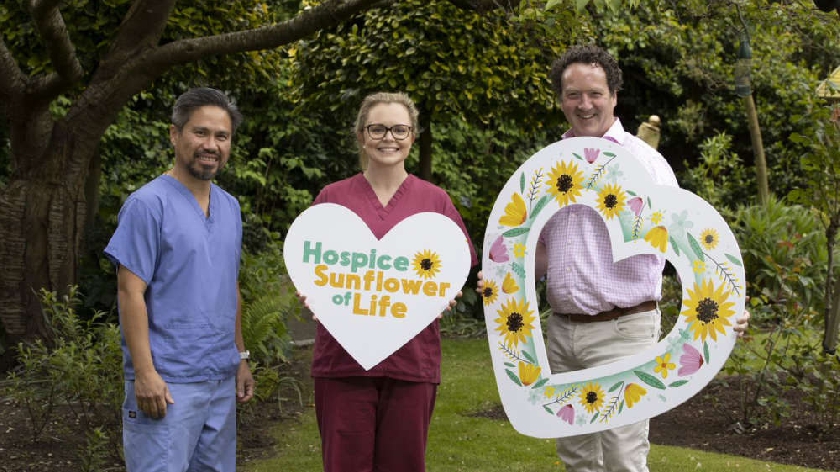 Wicklow Hospice is inviting locals to make a special dedication in memory of a lost loved one.
Our Lady's Hospice & Care Services (OLH&CS), Wicklow Hospice, is inviting members of the public to make special dedication in memory of a lost loved one as part of its annual Hospice Sunflower Days appeal. Funds raised will be used to support essential services, improve facilities, and provide specialised medical equipment, as well as being used for their gardens.
To take part in Sunflower of Life, people are invited to share the names of those they would like to remember on a special dedication card (for €5 per name), which the Hospice will plant in its gardens in Wicklow Hospices or Harold's Cross (Blackrock Hospice is closed for renovations this year). Although the public cannot visit the site currently as OLH&CS continues to keep residents and patients safe, a video of the Sunflower of Life Remembrance Ceremony will be shared on www.olh.ie on Sunday 3rd July.
The Hospice is also delighted that volunteers will return to the streets after a two-year break as part of its well-known on-street Sunflower Day's fundraiser on streets and shopping centres on Friday 10th and Saturday 11th June.
Geraldine Tracey, Head of Nursing & Operations at Our Lady's Hospice & Care Services, Blackrock & Wicklow Hospices, said: "Despite the challenges Covid-19 presented to services and fundraising efforts, our specialist teams continued to work every day to support patients and families across South Dublin and Wicklow. During 2021, our three sites cared for more than 4,629 people, held over 8,559 virtual reviews (phone or video calls) with patients; and the specialist palliative care team made over 9,430 home visits supporting patients and their families.
"For our first full year of service in Wicklow, we cared for 127 patients in the in-patient unit in Magheramore, did 1,776 virtual reviews (by phone or video) with patients and 1,622 specialist palliative home care visits.
"We are delighted to welcome our loyal volunteer collectors back on the streets and shopping centres and thank them for their dedication. The past few years have really brought home the importance of our loved ones and how we hold their stories in our hearts. Our Sunflower of Life fundraiser gives people the opportunity to dedicate a flower in memory of a loved one and celebrate their life in a special way."
For more information or to sponsor a flower, you can go to: https://olh.ie/product/sunflower-of-life/
Volunteers will be collecting in the areas below on Friday 10th and Saturday 11th June:
Supervalu Garran, Church Road, Greystones
Earls, Wicklow
Bridgewater, Ashford
Aldi Stores Rathnew
Aldi Mill Road, Greystones
Lidl Store, Rathnew
Centra. Mount Usher, Ashford
Centra Main Street, Balleese Lower, Rathdrum
Avoco Kilmacanoge , Kilmacanoge North
Pettit's Supervalu, Wexford Road, Arklow
Village Bookshop, Greystones
Spar Stores Windsor Spar, Wayside, Enniskerry