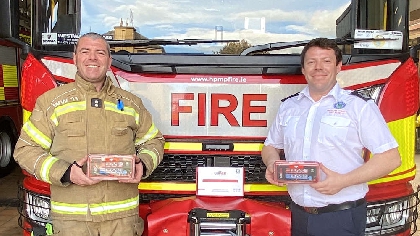 Wicklow Fire Service has become the first in Ireland to equip its crews with new lightweight Australian-made hand-size defibrillators.
Designed for use as a stand-alone 'automatic external defibrillator' especially in circumstances where medical care or a conventional defibrillator are not immediately to-hand, units are small enough to fit inside their dedicated mountain backpack or in the pocket of their protective fire-fighting clothing.
Being supplied to all stations within the county, their purpose is to give firefighters back-up advantage when assisting a casualty in remote and challenging circumstances where split-second attention is required.
Another purpose is the safety and protection of crew members who may be overcome whilst working in remote and mountainous surroundings, away from their tender and main emergency kit.
New to Ireland, the units are being marketed under the brand name 'CellAED' by specialist medical suppliers, Hibernian Healthcare. Costing €370 at retail price, the single-use units have a two-year shelf life and can be used on adults and children.