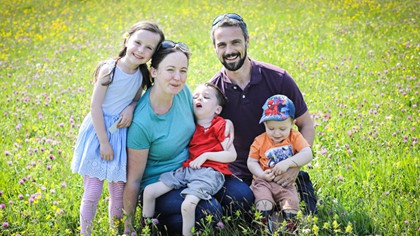 A Wicklow family is calling for the expansion in newborn screening tests from 8 conditions to 40 to bring Ireland's standards up to best International practice.
Currently 42 children are born in Ireland each year with a condition that could be detected at birth and treated, but is not.
Leslie and Lynda Martin from Rathnew, are the parents to two terminally ill boys, 4 year old Cathal and 3 year old Ciaran, who were born with the rare condition Metachromatic Leukodystrophy, which if detected, could have been treated at birth.
People diagnosed with MLD that's untreated, have a life expectancy of 5 years. Through a trial gene therapy treatment program in Italy, they were able to treat Ciaran who is now 2 years post therapy and is doing well. However unfortunately for Cathal, there was no chance of treatment because the condition had been diagnosed too late.
The Italian government has implemented a program to expand their newborn screening program from 4 diseases to 40 in just 1 year, which has proven to be a huge success.
They've started an online petition to get public support to force the Irish Government to implement the same programme here.