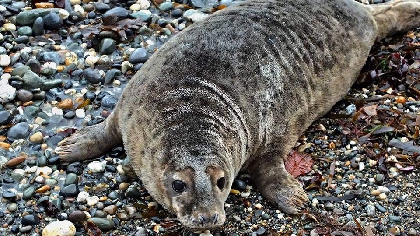 September to December is a particularly important time for grey seals as it is the breeding season during which time the adults seek safe sites to  "haul out" on land.
These are typically sheltered beach areas where the animals return year after year to breed, rest, moult and engage in social activity.
In the coming weeks seals will give birth to a single pup which is born with a white coat and does not swim.
Mothers will stay close to their pup for a number of weeks until it is weaned, during which time the animals are very vulnerable to disturbance by humans and dogs.
Seal rescue Ireland recommends that people and dogs stay at least 100 meters or more from seals that are "hauled out" as coming close to them will cause stress and could cause a stampede possibly leading to injury, drowning or death to small pups in particular.
Despite the appeal Gardai were called out yesterday to remove two men, who had ignored signage and calls from members of the public to leave the area.
According to Wicklownews.net, the men were fishing on the beach, only yards from a seal, but left after being spoken to by gardai.