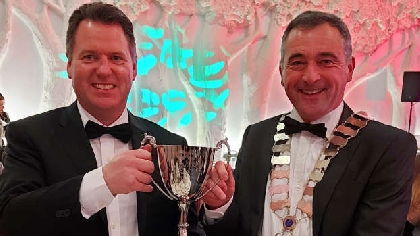 Wicklow County Council has been crowned Council of the Year.
Council of the Year recognises a local authority which has gone above and beyond for the people of the community and continuously developing a range of innovative projects and initiatives which improve and enhance the social, environmental, cultural and economic aspects of community lives. The 2022 All Ireland Community & Council Awards were presented by IPB Insurance and LAMA (the Local Authority Member's Association) to recognise and celebrate the outstanding work being carried out by Local Authorities in their Communities all over Ireland.
Wicklow County Council also won six other honours in the annual LAMA All Ireland Community and Council Awards:
Wicklow Sustainable Development Goals Mapping Tools won Gold in Best Environmental or Ecological Project or Initiative.
Carrig Eden Housing Project won Gold in Best Social Housing Project/Initiative.
Wicklow Tourism Passport won two awards – Silver in both Best Tourism Initiative and Best Arts/Culture Initiative (inc. festivals & events).
San Remo Housing Project won Silver in Best Community Health Initiative.
Arklow Courthouse & Enterprise Hub won Silver in Best Local Authority Innovation for Attracting Inward Investment.
Commenting on the achievement, the Cathaoirleach of Wicklow County Council, Cllr Shay Cullen said: "I am delighted that Wicklow County Council has been recognised nationally by these awards and I would like to congratulate all involved. I particularly want to pay tribute to the Management and Staff for all their hard work, it is recognition of the fact that so many people in the local authority are delivering great projects in our community."