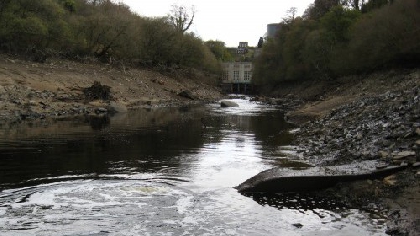 52.8 per cent of surface water - which includes rivers, lakes, estuaries and coastal waters - is in "satisfactory ecological health."
The quality of water in Irish rivers is getting worse, according to the EPA's Water Quality in Ireland 2013-2018 report.

The remaining 47.2 percent was deemed to be in a moderate, poor or bad ecological state.

The EPA says the number of seriously polluted river water bodies has risen from six to nine.

It is recommending a monitoring plan - set up last year to improve water quality - be fully implemented so the issue doesn't get worse.
The report shows Wicklow is facing it's own challenges despite being above the national average.
The Avoca river is polluted by from the legacy of the Avoca mines, which closed in 1982.
Lower stretches have also been subject to pollution from decades of raw sewage from Arklow, which reaches the sea untreated in the absence of a waste-water treatment plant.
The construction of a Waste Water treatment plant, which it's believed will take around two years to complete will open up the opportunity for a huge growth potential for Arklow.
Meanwhile over a third of Ireland's rivers and lakes are now littered.
A new survey has raised concerns about the level of plastic litter in rivers and lakes across the country.

A team from DCU inspected almost 400 waterways, and found more than a third of them were littered.

Even beauty spots like Glendalough's Upper Lake in Wicklow failed to be classed as clean.