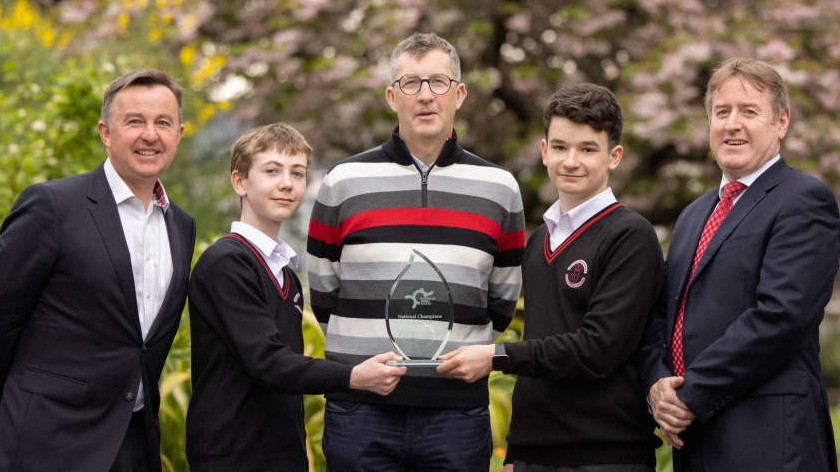 Alexandru Muntean and Conor De Búrca became National Champions in the European Money Quiz.
The students and staff of Gaelcholáiste na Mara are celebrating once again, with two of their students having recently been crowned National Champions in the European Money Quiz 2022. This was a remarkable achievement for the two Gaelcholáiste students involved - Alexandru Muntean and Conor De Búrca - given that there were almost 2000 participants from schools right around the country involved.
The European Money Quiz is Europe's biggest financial literacy competition for 13 to 15-year-old students, attracting up to a million plays annually via the Kahoot! platform. Launched alongside the European Money Week campaign in 2017, the European Money Quiz is part of the European Banking Federation's financial literacy initiatives, spotlighting the importance of financial education for young people to lead a better and more secure life. The Irish final was hosted by the Banking and Payments Federation of Ireland in April, with the winners being tasked with the responsibility of representing Ireland in the European equivalent - where they pitted their wits against the National Champions from Albania, Austria, Azerbaijan, Croatia, Czech Republic, Denmark, Estonia, Finland, Germany, Greece, Hungary, Iceland, Italy, Latvia, Liechtenstein, Lithuania, North Macedonia, Malta, Norway, Poland, Portugal, Romania, Serbia, Slovakia, Slovenia, Spain, Sweden, and Turkey. The boys from Gaelcholáiste na Mara proved more than worthy competitors at this level by finishing 3rd overall.
Their Business Studies teacher Tiarnán De Hál is exceptionally proud of their achievement - "They are two exceptionally diligent and inquisitive students that are a pleasure to share a classroom with - as, indeed, are all their fellow Business Studies students here at the school. To be crowned National Champions was a worthy honour in itself - but to place third in Europe was, as we would say here in the school, ar fheabhas ar fad!"
D'éirigh thar barr le Conor agus Alex sa chomórtas airgeadais níos luaithe. Tháinig siad sa 3ú háit as 29 tír timpeall na hEorpa agus tá turas chun na Bruiséile buaite acu dá bharr - móide €1000 don scoil.😄 😄 pic.twitter.com/zZDJZIbjdn

— NuachtGCM (@nuachtGCM) May 10, 2022