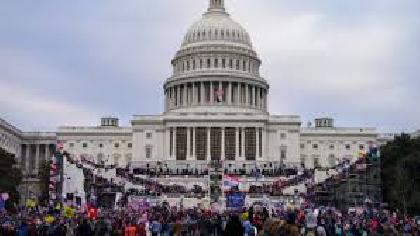 Four people have died - including one woman who was shot - during violent protests, after supporters of Donald Trump stormed the US Capitol building.
Politicians were due to formally declare Joe Biden the winner of November's election, which Donald Trump still falsely claims is fraudulent.
Tear gas was fired as crowds clashed with officers - two pipe bombs were found outside the headquarters of the two main political parties.
US Vice President Mike Pence defied Donald Trump by condemning the protests.
He told politicians - as the sitting in the House got underway again - that the violent scenes were unacceptable. 52 arrests have been made following the clashes on Capitol Hill.
Social media companies have put limits on Donald Trump's accounts.