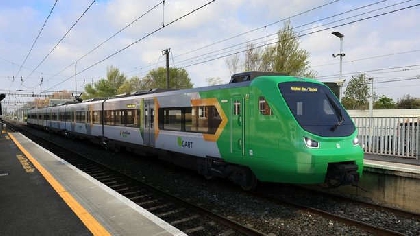 A substantial increase in the numbers of people using sustainable and active travel is among the primary objectives of the updated Greater Dublin Area Transport Strategy published by the NTA today.
The Strategy covers Dublin city and county as well as the counties of Meath, Kildare and Wicklow.
The Draft of this Strategy was published for public consultation in 2021 and 1020 submissions were made as part of that process.
NTA is required under statute to review the GDA Transport Strategy every six years and today's document is a revision of the plan that was adopted by Government in 2016. This Strategy was approved by Minister for Transport Eamon Ryan after last week's Cabinet meeting.
Among the elements that have already been proposed and which are to be further progressed and delivered during the lifetime of this Strategy are:
All elements of BusConnects Dublin
Increased bus prioritisation on regional bus corridors
Revised and enhanced GDA Cycle Network Plan
Provision of high-quality pedestrian facilities and pedestrianised routes
Next Generation Ticketing
Luas extensions to Finglas, Lucan, Poolbeg and Bray
100km of electrified rail under DART+ Programme
Metrolink from north of Swords to Charlemont
Newly-proposed plans in this Strategy include:
Provision of a new rail line from the M3 Parkway to Navan;
Extending the DART+ programme to deliver electrified rail services to Sallins/Naas, Kilcock and Wicklow ( The NTA has confirmed they are working on proposal with Irish Rail for a Terminal Charging Point at Wicklow Town railway station. This is a necessary component for charging the Battery Electric Trains for Wicklow which are currently on order.)
Assessing the requirements for new Metro lines when updating the Strategy in six years, including previously considered options on the southside.
The planning and design of a further eight Luas extensions/ new Luas lines to be ready for construction post 2042:

Luas to Clongriffin
Luas to Balgriffin
Luas extension to Tyrellstown
Luas to Blanchardstown
Luas extension to Clondalkin
Luas to Tallaght / Kimmage
Luas to Tallaght / Knocklyon
Luas to UCD / Sandyford (reduces future passenger congestion on the Green Line in the future)
Overall transport emissions are to reduce by 50% by 2030 under the Climate Action Plan published recently and by 69% over the course of this Strategy but transitioning fleet to zero-emission fleet means that public transport itself will go beyond those figures.