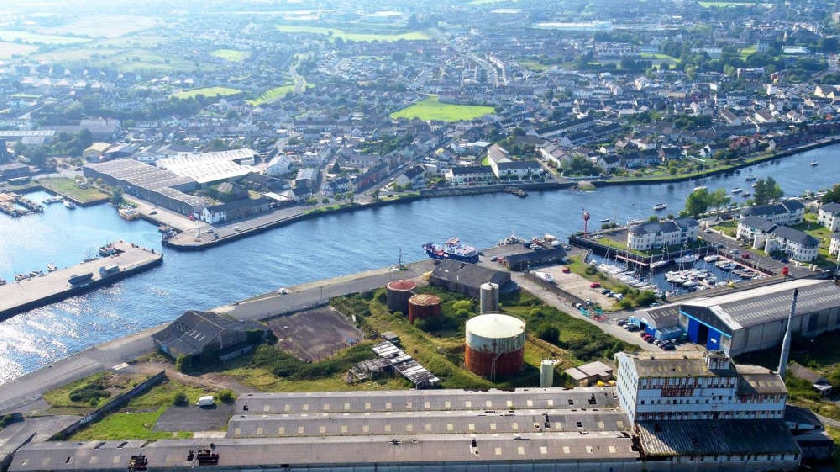 An Bord Pleanála have approved the proposed Flood Relief Scheme for the town of Arklow.
Today, Mr Patrick O'Donovan, T.D., Minister of State with responsibility for the Office of Public Works (OPW), welcomed the An Bord Pleanála decision to approve the proposed Flood Relief Scheme for the town of Arklow, Co. Wicklow.
Arklow Town has a history of significant flooding. Flooding can arise either from the sea as a result of storm or surge tides or from the river, which overtops its banks in the event of heavy rainfall. In some cases, the flooding has occurred as a result of a combination of both factors.
The flood scheme has been designed to withstand a 1-in-100-year flood event from the Avoca River, as well as 1-in-200-year tidal flood event. The Arklow Flood Relief Scheme was initiated in 2002 following major flooding in 1986, 1989 and 2002. Consulting engineers were first appointed by Arklow Town Council (now Wicklow County Council) in the early 2000's to commence work on a Feasibility Report for the proposed scheme. The Planning application was lodged in May 2021, and an Oral Hearing was held in January 2022. Planning approval was granted by An Bord Pleanála, by order dated 19th July 2022, subject to 8 conditions, relating to sustainable development of the area and to ensure protection of the surrounding environment, ecology and wildlife.
Minister O'Donovan said: "Coming almost one year to the day after I visited Arklow to familiarise myself with the proposed flood relief scheme there, this is very welcome news indeed. First and foremost, for the owners of the 637 homes and 141 businesses in the town for whom the scheme will mean protection from the kinds of flooding events we have witnessed here repeatedly in the past twenty years. But also for our partners in Wicklow County Council and the engineering consultants with whom the OPW has been working closely over many years to assess and develop a scheme for the Avoca River which is viable, cost effective and sustainable. The estimated €28 million investment by the OPW will protect the town of Arklow against both coastal and river flooding once completed."
The defence system includes a plan to deepen the river as well as the introduction of new debris and gravel traps in order to improve conveyance. It also includes elements to enhance the public realm, strengthening works to the existing quay walls and Arklow Bridge, the construction of floodwalls, glass panelling and an embankment as barriers against flood risk. Wicklow County Council will act as lead authority in delivering the scheme, with full funding and support provided by the OPW under the Capital Flood Relief Programme.