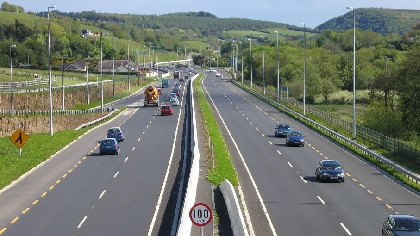 Mary Coughlan has threatened to stage a sit-in overproposals to expand the N11/M11 near her home here in Wicklow.
According to extra.ie the entertainer is among 2,400 residents who have signed an objection to the proposals which they claim will devastate Delgany, Kilpedder and surrounding areas.
Widening the Glen Of The Downs to facilitate a third lane for buses, is among a number of proposals on the cards for improvement works on the N11-M50.
A second phase of public consultation is underway on proposals for a major upgrade of the road between the M50/M11 merge and Coyne's Cross in Wicklow according to the Irish Times.

Since the Glen of the Downs was widened the number of cars has risen from 25-thousand a day in 1999 to 53-thousand last year - swelling to 78-thousand when it hits the Dublin border.

As part of plans a third lane has been proposed - running for 10 kilometres from the M50 merge to south of Kilmacanogue.

It would also see a redesign of junctions and the closure of a number of access roads

While there are also calls for an express bus lane to be added.
Meanwhile the National Transport Authority has agreed to fund a study to examine proposals to turn the hard should on the N11 into a bus lane.
It's one of a number of suggestions put to the NTA, during meetings with the Wicklow towns team, the county council, Transport Infrastructure Ireland and Wicklow TD Stephen Donnelly.
Options for park and rides, express buses, and higher rail frequency for both the Dart from Greystones and train services from Arklow, are also being proposed, to help ease traffic congestion on the route.
It's in response to the recent news that any upgrade works for the N11/M11won't start until 2027 at the earliest.
Deputy Donnelly says he hopes the proposed interim measures from all involved will help to alleviate the traffic chaos currently being experienced every day.