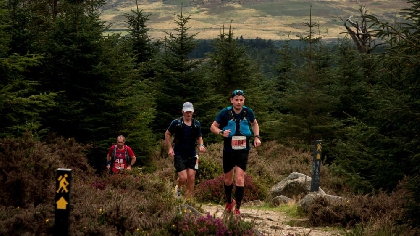 Some 1,300 participants from 46 countries have booked to compete in the EcoTrail Wicklow which takes place from Thursday, 28th September to Saturday, the 30th.
The participants from all over the world will start out in Bray before competing in the 19k, 30k, 46k or 80k races at this year's trail running event. A remarkable 46 different nationalities will be represented.
There are various events scheduled throughout the weekend starting with a gathering at the Harbour Bar on Thursday night where runners are invited for food, music, drinks and trail running chats.
On Friday morning, a tour to Glendalough is organised to give visitors an opportunity to discover the beauty of the glacier valley.
Wicklow Naturally, County Wicklow's Food and Drink Network, is opening a 'Pincho Bar' on Bray Seafront for runners to experience the Wicklow flavours as they collect their bibs for Saturday races. Wicklow Sports Partnership will organise outdoor activities around the bandstand.
Saturday is race day, with the 80k race leaving at 7.30am, followed by the 46k race starting at 9am, the 30k at 10am and 20k at 11am. From 11am, people can follow the race live on YouTube and watch participants running down Bray Head through the finish line.
The full calendar of events is available here
This year EcoTrail Wicklow is welcoming some fantastic international elite runners from the US, France, Germany and Slovakia including Yoann Stuck who won EcoTrail Paris back in March of this year.