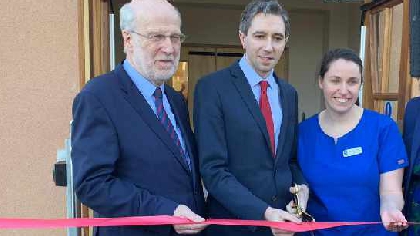 After 11 years of campaigning and fundraising the Wicklow Hospice has been officially opened,
The 15 bedroomed facility is the first specialist palliative care facility in the county which will provide in-patient care for those with life-limiting conditions.
The hospice will be run by Our Lady's Hospice and Care Services, with operational funding being provided by the HSE.
More than 3.5 million euro has been raised by the people of Wicklow for the project, which is located on lands at Magheramore donated by the Columban sisters.
The Health Minister Wicklow T.D. Simon Harris cut the ribbon on the facility,
Local resident and Oscar winning actor Daniel Day-Lewis, is one of the Foundation's patrons.
He spoke to RTÉ about his involvement with the project at the European Premiere of his film 'Lincoln' at the SAVOY cinema in January 2013