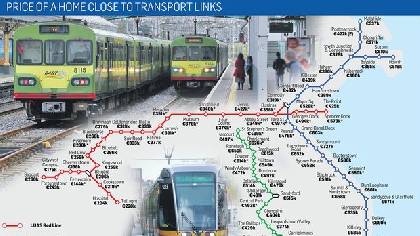 That's according to the latest report from property website Daft.ie
The Daft.ie "Light Rail Rental Map" has found that some tenants are paying rents of more than 3,000 euro per month to rent close to Luas stops and DART stations across Dublin.

That's compared to an average monthly rent of 2,000 euro for accommodation not on any rail line.

Martin Clancy from Daft.ie says connectivity costs.

Rents near DART stations are among the most expensive analysed with Sandymount, Lansdowne Road , Dalkey and Grand Canal accounting for four of the top five most expensive stations to live by, on the new maps produced by Daft.ie.

On the Luas, homes close to Spencer Dock on the red line command the highest average rents, while those living near O'Connell St pay most on the Luas green line.

For the first time ever, the proposed route for the MetroLink was also included in the data.

It's expected rental prices along the line will also jump once the plan is finalised.