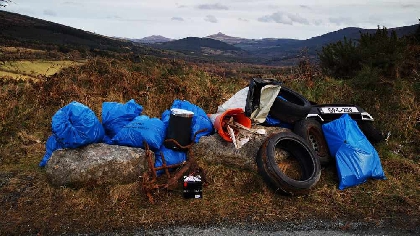 The Pure Mile Project says, despite the restricted movement of people in recent months, there has been a visible increase in litter and rubbish along the roadsides in county Wicklow.
In March, the Pure Truck removed over 20 tonnes of rubbish from Wicklow and Dublin uplands.
The majority of the litter was collected by Volunteers from hundreds of roads, verges, drains and ditches in rural Wicklow.
There are now over 800 miles or roads, mountains, woodlands, valleys, and upland areas signed up to the 2021 Pure Mile Project, the largest number ever since the project began.
Over 500 litter clean-ups have already taken place this year, with over 2,000 bags of litter and rubbish collected along with other dumped items including tyres, mattresses, furniture, and prams.