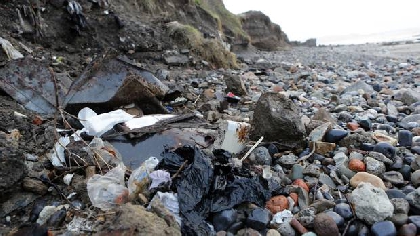 A public consultation process has been launched on plans to address the Old Bray landfill on the North Beach in Bray that is being washed into the sea.
Dún Laoghaire-Rathdown County Council has earmarked €2 million of it's budget on a scheme which will see the former Bray landfill remain in place, while rock armour and coastal protection will be installed along the cliff face and on the beach north of Bray harbour.
The former dump contains more than 104,000 cubic metres of mainly inert domestic and construction waste.
According to a consultants' report in 2017 clean up costs on the site could amount to 12 million euro.
It says a "do nothing" scenario for the former landfill is not an option.