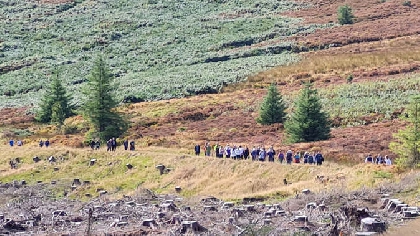 The Ambassador of Finland to Ireland, H.E. Raili Lahnalampi launched the 6th Annual Glencree Peace Walk recently and led over 80 Peace Walkers in a #Walk4Peace across the Wicklow mountains.
This year's peace walk marked the celebration of 60 years since diplomatic relations were established between Ireland and Finland in 1962. It also marks UN International Peace Day, which calls for 24-hours of non-violence and ceasefire.
Over 80 champions of peace, including members of the diplomatic corps, the Irish Defence Forces, supporters, Board members and staff of Glencree turned out to take part in the 9km peace walk, which set out from the Glencree Centre for Peace & Reconciliation to Knocknagun in the Wicklow Mountains.
Fundraising for the 6th Annual Glencree Peace Walk is ongoing.
More information on the Peace Walk can be found here