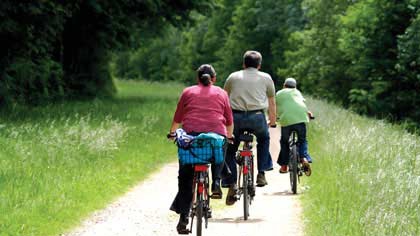 The National Transport Authority says the projects, which includes €1.2 million for the Strand road cycle route and €50,000 for the Arklow to Woodenbridge and Shillelagh route, will provide high quality facilities for cyclists and walkers.
The funding for Wicklow is part of an overall total of €240 million allocated to support 448 sustainable transport projects across the country.
The projects involve works such as road improvements, segregated cycling lanes, footpath widening as well as upgrades to existing cycle schemes and other improvements to outdoor spaces.
Sustainable Transport Measures Grants: 2021 Allocations to County Wicklow:
Arklow - Woodenbridge - Shillelagh €50,000
Strand Road Cycle Route €1,200,000
Bray DART Interchange €500,000
Pedestrian Access Route Wicklow Train Station €75,000
Killarney Road Cycle Route €50,000
Vevay Road Cycle Route €50,000
Permeability to Public Transport or Schools €25,000
Bray Bridge footbridges and tie ins €350,000
Swan River Greenway €75,000
Bus Priority in Little Bray €50,000
Bray Public Transport Bridge Connection Phase 2 €70,000
Arklow Transport Study €150,000
Greystones Transport Study €150,000
Southern Cross Road VRU Improvements €75,000
Bray Main St. Bus Priority & Decongestion €50,000
Public Transport Priority & Public Realm Improvements at Bray Town Hall €20,000
Convent Avenue to Vevay Crescent Permeability Scheme €75,000
Covid Programme - Contractual Liability €540,000
Stimulus Programme - Contractual Liability €754,000
Putland Road €100,000
River Dargle Cycleway €50,000
Kilmacanogue to Bray Retail Park (Southern Cross Road) €50,000
Delgany Village to Mill Road €100,000
Rocky Road €50,000
Dublin Road to Wexford Road €75,000
Rathdown Road €30,000
Arklow Main St to Train Station €20,000
Blessington Main St to Deerpark €50,000
Wicklow Main St to Marlton Rd €30,000
Greystones Seafront to Kilcoole €125,000
Lower Main Street, Tinahask Road & Dock Road to South Quay €50,000
Old Ballymore Road €50,000
Quinsborough Road €30,000
Bridge Street to Wicklow Port €20,000
Sea Road to Train Station, Kilcoole €30,000
Bellevue Road €30,000
Old Connaught Avenue to Dublin Road €30,000
Woodstock Rd €20,000
R772 Ashford €30,000
Cycle parking provisions in Wicklow €200,000
Safe to Schools Programme - Support Infrastructure (Inc.: Redlane Blessington & St Bridget's, Manorkilbride) €600,000
Active Travel €1,517,000