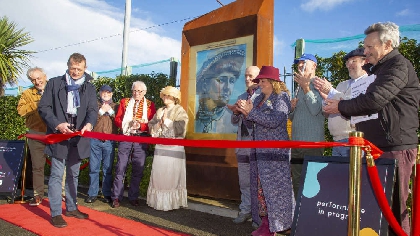 The Greystones Rail Station Makeover Committee is delighted to announce the recent unveiling of the first Corten Steel Totem (3 metre hight solar powered) featuring the portrait of Elizabeth Burnaby – nee Hawkins Whitshed.
Elizabeth, born in Greystones, was a world-famous Alpinist, author, and photographer.
Local artist Tom Byrne painted the portrait.
Background:
In 2016 – the Greystones 2020 committee (later GTT) in association with Greystones Tidy Towns re- identified the Greystones Rail and Dart station as the central hub and focal point in the history and development of our community. (Astonishingly over 1 million public transport passenger journeys start and finish there every year.)
In 2016 the committee then commissioned local artist Tom Byrne to paint the portraits of over 20 prominent personages whose connection with Greystones was worth marking. These have been on display at various times.
Over the years Greystones Railway Station has received standard maintenance from Irish Rail.
This has been mainly of a technical, safety and public facility nature.
However, the public realm of the station had considerably deteriorated regarding its general appearance, particularly within the confines and along both platforms. In terms of visitors arriving by train, this may be their first impression of Greystones.
The current promoters together with Greystones Town Team were determined to revive and deliver on what was initially identified and proposed to create a positive accurate image of the town, its history, legacy, vibrancy and growing community.
Making it happen:
Phase 1 – involved agreeing a makeover plan and timeline with the key stakeholders particularly CIE and Irish Rail. The promoters commissioned leading local architect, Colum O'Broin, to design and oversee the quality and implementation of this beautiful project.
Phase 2 – completed in 2022 included all the landscaping, new planting of 100 metres of Portuguese Laurel Hedging, new colourful Scoop and Valentia Planters, the amazing 20 metre long Nostalgic Platform Mural by local artist Mary-Kate Hardy, and on the western platform the 15 metre long historical timeline presentation by award-winning local journalist Peter Murtagh.
Phase 3 – the final piece is the design and commissioning of up to 9 sculptural Bespoke Corten Steel Totems.
These 3-metre-high solar powered installations feature the striking portraits of Greystones Legends.