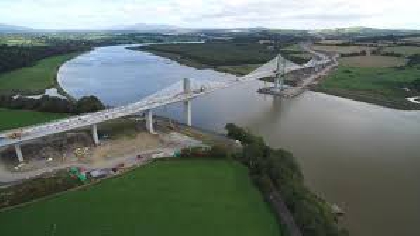 Taoiseach Leo Varadkar has opened the N25 New Ross Bypass in County Wexford this afternoon.
The project, worth 230 million euro to the South East region incorporates the Rose Fitzgerald Kennedy Bridge over the River Barrow, which at 887 meters, is Ireland's longest bridge and the longest of its kind globally.
The bypass will look to address chronic traffic congestion and tailbacks in New Ross, particularly during peak times, with travel times cut by up to half an hour.
The new road will compliment the Enniscorthy by-pass which opened last July which allows motorists use a full motorway or dual carriageway route between Bray and Enniscorthy with three junctions south of Gorey.
New Ross Bypass PPP Scheme facts:
14km dual carriageway, 1km single lane
285,000 trees and shrubs planted along the roadside
Road has 16 farm underpasses and 20 mammal underpasses to connect foraging routes
Rose Fitzgerald Kennedy Bridge sits 36 metres above the River Barrow
230m span between post-tensioned concrete decks of the bridge is longest of its type in the world
500km of cabling wire on the bridge – similar to the length of the island of Ireland
Bridge built with 7,000 tonnes of reinforced steel – equivalent to the Eiffel Tower
70,000 tonnes of concrete went into the bridge
Approximately 2.5 million hours worked on site to deliver project by over 1,000 people