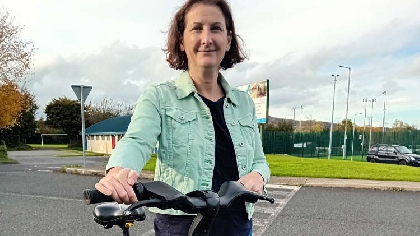 Greystones could soon benefit from the roll out of an e-bike sharing scheme thanks to a recent motion by Green Party Councillor Lourda Scott.
Cllr Scott has welcomed the unanimous support for her motion on bringing an e-bike sharing scheme to the district.
Following a brief discussion at a recent meeting of Greystones Municipal District, it was agreed the council would explore options to bring a scheme to the area. Councillors agreed to write to the Chief Executive making the case that Greystones be considered for the next Bolt e-bike hub.
Speaking after the meeting Cllr Scott said: "E-bike sharing schemes have been very successfully rolled out in other areas across the country such as Athlone and Mullingar, and most recently in Bray. They are a great help in encouraging people to get out of their cars and hire a bike for those short journeys. E-bikes are robust and easy to cycle."
The Green Party Councillor said that the roll out of an e-bike scheme in Greystones would help people to navigate the steep roads in the area as well as being a fun alternative to car transport.
"One of the big advantages is that e-bikes would make it much easier for people to get around our very hilly roads in Greystones and Delgany. Greystones is a rapidly growing town that desperately needs alternatives to car transport. Introducing an e-bike sharing scheme won't solve all the problems in travelling around the area but it would definitely offer an attractive and fun alternative.
"This would also provide a nice option for visitors to the town to get out and explore the area. I have been asking for an e-bike scheme to be rolled out here for some time and I am delighted to have the full support of my fellow councillors on this matter," concluded Cllr Scott.