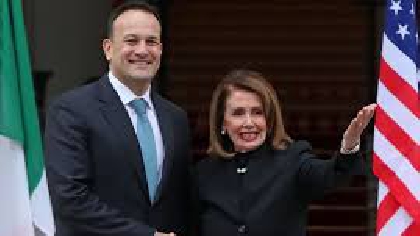 The US House of Representatives speaker Nancy Pelosi has been visiting the border with Northern Ireland.
But yesterday she revealed her connections with Wicklow.
Nancy Pelosi was addressing a joint sitting of the TD's and Senators to mark 100 years since the foundation of the Dáil.
She said the seamless border between north and south needs to be protected from Brexit and she told the Dáil the legacy of peace needs to be preserved no matter what happens.
In a lighter moment, Nancy Pelosi said while neither she or her husband had ancestry here, she expressed her pride at having an Irish son-in-law, Michael Kinealy and three Irish grandchildren, Liam, Sean and Ryan, who had all been christened at Kilquade church.