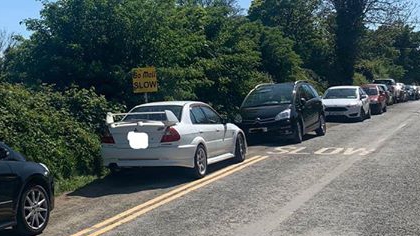 Gardai in Wicklow say more than 70 cars, motorcycles and cyclists were forced to turn back at various checkpoints yesterday, as people broke the current 5 kilometre travel restrictions to head to Glendalough, Devils Glen and Crone wood.
Some of the vehicles had traveled from Kildare, North Dublin, Offaly, Roscommon and Wexford.
Gardai also say, despite double yellow lines and regular patrols, a large number of vehicles parked on the road at Magheramore beach causing a serious traffic hazard, with many of the vehicles registered to addresses well outside the 5 kilometre restriction.
All the offending vehicles were either towed, or were given a fixed charge notice.
Gardai have again warned motorists enforcement measures are still in place and they will apply them to those breaking the Covid-19 restrictions.
Meanwhile driving activity in Ireland has more than doubled since last month.

New smartphone data from Apple and Google outlines mobility has generally increased since the phase one came into effect.

According to data from Apple, driving activity has seen a spike in recent weeks.

On April 5th, it was 22 percent of what was recorded in January, but on May 22nd, it had increased to 58 percent.

In the same timeframe, walking went from 22 percent to 38, with public transport on 19 percent - up 9 points from April.

Meanwhile, Google trends have found workplace activity was 60 percent of what it was at the beginning of the year.

That's up from 48 percent last month.

The data also finds activity in residential settings is 17 percent higher than in January, with supermarkets and pharmacies just 11 percent lower than before COVID-19.

In terms of workplaces, activity in counties Carlow, Laois, Offaly, Longford, Roscommon and Tipperary is among the highest in the country - at around 70 percent of normal.