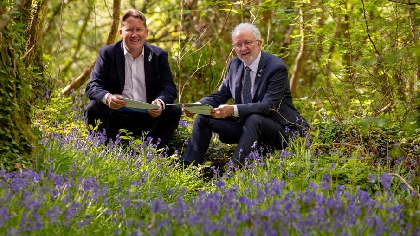 A Strategic Action Plan for the National Parks and Wildlife Service was published following Government approval.
The Plan sets out an ambitious timeline for a full organisational restructuring of the NPWS, and a substantial €55 million additional investment in the organisation across three budgetary cycles, together with the early recruitment of 60 key staff for critically important roles.
The Strategic Action Plan is designed to implement and deliver upon the recommendations made by the review, which are as follows:
Governance
1. Establish the NPWS as an executive agency within a Government department.
2. Change the NPWS internal structure, so that it is fit to meet current and future challenges.
3. Reconfigure the top management team within the restructured NPWS.
4. Establish permanent standing committees, on a cross-functional basis across the new directorates, to address longstanding, multifaceted, complex matters.
People
5. Fundamentally overhaul and improve HR capability and practice within NPWS.
6. Set up an expert group, drawing on international expertise in organisations with a similar remit to the NPWS, to establish the human resourcing requirement of the NPWS on an international, best-practice basis.
Legal
7. Bring forward legislation to provide updated and stronger, statutory underpinnings for our National Parks and the work of the NPWS in protecting and conserving threatened and endangered animals, plants and habitats in the State.
Communications and ICT
8. Overhaul and fundamentally transform the way NPWS communicates, both internally and externally.
9. Put in place a new, renewed and improved programme of Engagement, Awareness and Education by NPWS.
10. Transform ICT. The CIO Office in the Department of Housing Local Government and Heritage has brought forward a four staged process and pathway to transform ICT within NPWS and over the next three years.
Other recommendations
11. Consider a wider examination of the remits of the broader constellation of State actors with significant responsibilities in relation to Biodiversity and Climate action.
12. NPWS should engage with other public bodies operating alongside it in the wider sector, to help ensure that each is playing its own part, according to its remit and responsibilities, and fulfilling its statutory responsibilities in relation to the protection of nature and biodiversity.
13. Recruit to a number of key posts in NPWS immediately, additional to the filling of current vacancies, where these are needed to mitigate critical risks to the interests of the State.
14. Conduct an assessment of the grading of technical and regional posts by reference to comparable posts across the Irish public service.
15. Establish a new Engagement, Corporate and Specialist supports directorate.