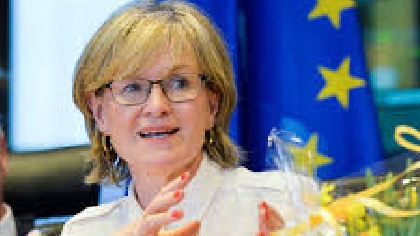 Mairead McGuinness has been selected as Ireland's new EU Commissioner.
The MEP for Ireland North West will take over the Financial Services portfolio, in a shake-up of commissioner duties.
She replaces Phil Hogan, following his resignation after golf gate last month.
Commission President Ursula von der Leyen made the announcement after interviewing both of the government's candidates, Mairead McGuinness and Andrew McDowell.
Fine Gael Councillor Colm Markey is to replace Mairead McGuinness as MEP for the Midlands -North West constituency.

The Louth County Councillor insists he will work hard to serve the interests of the Irish people in the European Parliament.

The 48 year old was first elected to the council in 2009 and is also a former President of Macra na Ferime.

Mr Markey says securing a good CAP deal for farmers will be critically important and something he will prioritise.