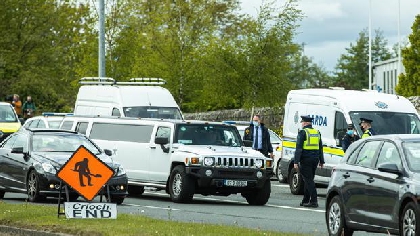 Earlier this week, the same judge ordered that a marquee, where the groom's parents planned to host a party for forty guests, be taken down.
On Wednesday, Judge Sinéad Ní Chulacháin granted permission to Dún Laoghaire-Rathdown County Council to take down a marquee that had been erected next to the home of the groom's parents, Michael and Johanna Connors, at a halting site just off Leopardstown Road in Dublin.

She was told it could cater for up to sixty guests. A wedding party of that size would have been a clear breach of Covid-19 rules.

The case returned to court today because the council wanted an injunction restraining the Connors from hosting a wedding reception at the site to remain in place until the end of next month.

However, Judge Ní Chulacháin refused to make that order.

She said the government intends to review the situation on June 10th, so she wouldn't grant an injunction beyond June 9th.

She did allow the local authority to keep the marquee in storage until that date, but refused their request to have the identity of the owner revealed.