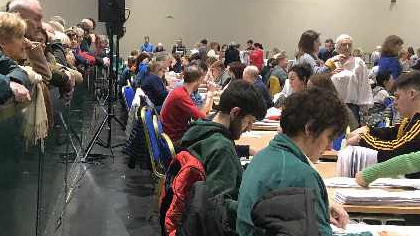 An Announcement is expected shortly on the results of the first count  at the Shoreline Leisure Centre in Greystones for the Wicklow Constituency.
Sinn Fein's John Brady will top the poll, with an expected surplus of between 4 and 5,000.
It's uncertain if the redistribution of his surplus will be completed by this evening. The returning officer Mary delahanty has already indicated that she intends to bring the Wicklow proceedings to a halt at around half past nine and return tomorrow morning to resume the process.
.His nearest rival is Simon Harris on around 12% with Jennifer Whitmore taking 10 percent first preferences according to the tallies
Billy Timmins, Andrew Doyle, Pat Casey and Stephen Donnelly along with the greens Stephen Matthews are around 6 to 7 % of the tallies. But more than 5,000 ballot papers were missed in the Tally process, which could see a change to those percentages when the official count is completed