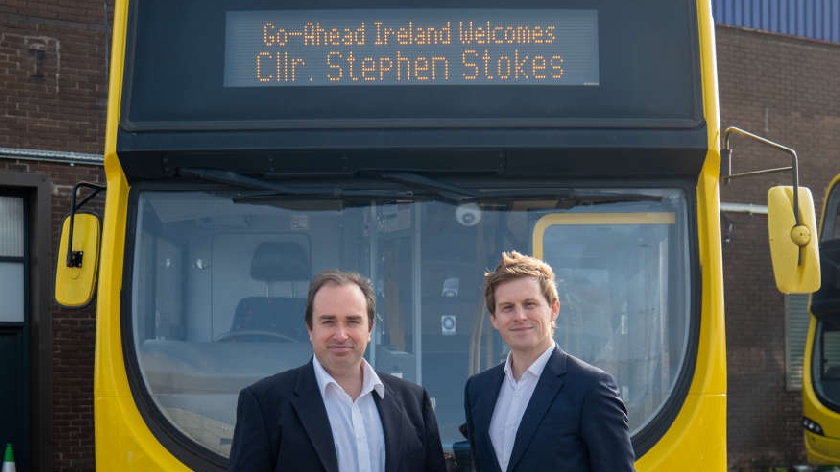 Cllr Stephen Stokes has discussed the 184 bus service directly with Go Ahead's Managing Director.
Cllr Stephen Stokes has discussed the 184 bus service directly with Andrew Edwards, Managing Director of Go Ahead. Following the meeting at Go Ahead Headquarters, Cllr Stokes stated: "It was a productive meeting. There is a lot happening behind the scenes at Go Ahead. It was important to discuss several key issues, including concerns and upcoming developments."
One of the key issues raised by Cllr Stephen Stokes included reports of the 184 occasionally skipping Charlesland. He was given assurances that this should never happen, even when a bus is running late. Additionally, there was a detailed discussion about buses that do not turn up. Cllr Stokes added: "I stressed the importance of ensuring that all buses need to run to schedule. The 184 is not like other routes that may have a bus every 10 minutes. If a 184 does not turn up, it can be a very long wait for the next one. This is particularly hard on passengers waiting outside in wintertime. This was a major issue in 2022. I was even caught out myself, by ghost buses. In fairness to Go Ahead, this has improved, but it is not always perfect. They are apologetic about the service last year, and any other occasional no shows. Of course, it will take time to regain the full trust of the community. However, I was advised that Go Ahead are now 98-99% operational. This is encouraging. If there are concerns about individual buses, I will raise them directly with Go-Ahead Senior Management."
Recruitment has been a key area of development for Go Ahead. Cllr Stephen Stokes visited the Go Ahead recruitment department, and saw first hand their operational efforts. Cllr Stokes further noted: "Like many companies securing drivers is vital. Go Ahead seem to be doing well with recruitment. However, there are delays getting the bus driver licences from the RSA. It affects all bus companies. The Government needs to urgently address this with decisive RSA staffing and resources. A similar issue is the time it takes regular folks to get a driving test for car licences. It's not rocket science, investment is needed."
Cllr Stephen Stokes further discussed logistics with Go Ahead. He noted that Go Ahead are particularly concerned about traffic through Bray. Cllr Stokes added: "Traffic is a legitimate concern for route effectiveness. We need to take a close look at how we can reduce traffic through towns. A precise plan is required. Furthermore, people will only reduce car journeys if the public transport is effective, and reliable. I am concerned that the Government lacks imagination to make this a reality." Cllr Stephen Stokes also discussed the future of electric buses. Cllr Stokes noted: "We all want less or zero emission buses. However Go Ahead do not have the electrical capacity to go 100% electric yet. They need an electricity sub-station, which according to Go Ahead will take at least 10 years to bring forward. I am calling on the Government and the ESB to help provide this infrastructure as a priority. The buses will also need top up charging points dotted around Wicklow and Dublin."
Go Ahead is headquartered in Ballymount, County Dublin, having invested €12 million in their depot. Cllr Stephen Stokes also highlighted that it takes time to drive between the depot and the 184 route. Cllr Stokes noted: "The time it takes to drive a 184 bus to Bray, or Newtownmountkennedy, is significant. This eats in to precious driving time, as the drivers are limited to just over 5 hours of driving. As such, they are looking at options to have parking facilities further south, perhaps in North Wicklow. That could greatly assist the efficiency of route implementation, and make it more appealing for staff recruitment."
Cllr Stephen Stokes was given a full tour of the Go Ahead facilities. Cllr Stokes concluded: "Go Ahead are continuing to invest and expand. This is necessary because a number of new routes have been introduced in recent months, and they need more room for buses. I wish Go Ahead well with this expansion. I am thankful to Andrew Edwards, Adam Harvey and all of the Go Ahead Team for the visit. When the 184 runs correctly, it is a good service. I will continue to liaise with Go Ahead about any future issues or positive developments."